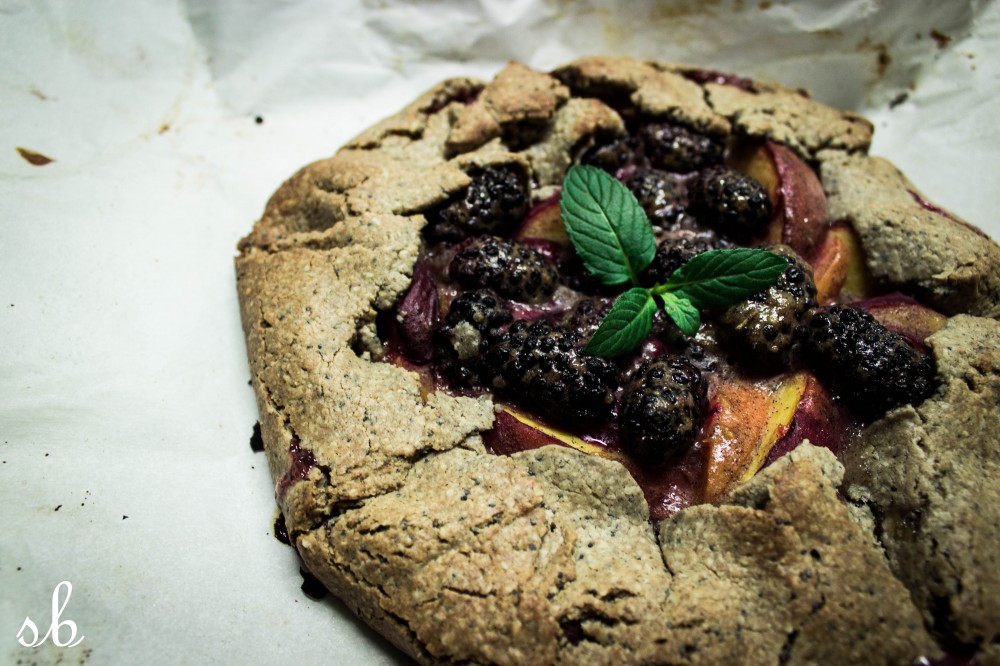 Perusing through the produce section, looking for nothing in particular, I came across the peaches, apricots, and berries and I immediately knew what I had to have. I was feeling fancy and day dreaming about a little cottage in the French countryside (random?) during the summertime, sipping tea in the garden. Savoring the fruits of summer while gazing out over the fields of sunflowers and lavender…..yeeeoooooow! The spindly elbow of a sweet Korean woman jabbing me in the side brings be back… Alas, I'm in Korea, at a mega-mart, being hustled because I am taking to long looking at the berries. Sigh. It was settled then. I would pick up what I needed for a galette, hightail it home and continue playing pretend.

After seeing Sarah B.'s Plum Yummy Galette when she posted it back in 2011, I knew exactly where to look for tips on making the galette crust as healthy and wholesome as possible. With a few changes of my own, the end result did not disappoint. Traditional galette dough relies on white flour, butter and sugar. Though tasty, heartburn and that heavy yuck feeling leave me wondering, was it worth it? The recipe for this crust is equally as simple but has over triple the nutrition (and yum-factor). Replacing the refined white flour with rolled oats and stone-ground buckwheat flour creates a hearty and filling crust. Adding poppy seeds (thanks Sarah B.) and raw, organic, unfiltered honey creates a pleasing texture and sweetness that is perfect for a stone-fruit filling. (I have also made a savory heirloom tomato galette following the same crust recipe but omitting the honey, adding fresh rosemary instead of poppy seeds, and finishing with a bit of extra virgin olive oil. Delish).
Buckwheat is an often overlooked grain-like groat. Most commonly known as the main ingredient in Japanese soba noodles, buckwheat boasts far more versatility than you may think. Naturally gluten-free, buckwheat flour makes a great substitution for white or whole wheat flour in baking recipes. I suggest using 10-30% buckwheat flour and 70-90% ground oat flour because if you use all buckwheat flour, the end result will be a dense brick better suited as a door stop than eaten. Its flavor is mild and the ground hulls produce a nice texture after baking. Try it in pancakes, crepes, waffles, homemade pasta, tarts or even as a thickener as I have in this recipe! Almost all of the gluten-free beers out there are made from buckwheat as well.
Among all other grains, buckwheat spends the most time in our digestive tract, therefore making it super filling and stabilizing for blood sugar. Buckwheat is a great source of rutin and quercetin, which are flavonoid glycosides that have proven benefits for those with high blood pressure. Buckwheat has a high proportion of all eight essential amino acids and lycine, which makes it an awesome protein source. This groat also has a decent amount of calcium. To get the most out of buckwheat, it is suggested to look for the un-roasted variety and to then toast it at home to retain most of the nutrients. Lucky for you, buckwheat flour is made from un-roasted groats and comes in three graded varieties; light, medium and dark with dark being the most nutritious. [1]
Why do I always bake with ground oat flour? Well, I find that it tastes better than all other non-refined flours out there. It can be certified gluten-free, and has all kinds of health benefits. Fiber, protein, blood sugar regulation to name a few. Don't get me wrong, I love my old-fashioned morning oatmeal, but it just gets so boring. Lately I have been making oatmeal pancakes, daily actually, and they are insanely out-of-this-world good. I just might share them, maybe.

Rustic Stone-Fruit Galette
Crust
1 cup rolled oats

1/2 cup buckwheat flour
1 Tablespoon poppy seeds
scant 1/2 teaspoon fine sea salt
1/2 cup chilled coconut oil (place in the fridge for about 15 minutes, any longer it will become border-line rock solid)
generous 2 Tablespoons raw, organic, unfiltered honey (vegans, use brown rice or maple syrup)
1/4 cup ice water
Filling
2 cups sliced, fresh peaches

1/2 cup sliced, fresh apricots
1/3 cup fresh blackberries (or any other berry)
2 Tablespoons buckwheat flour
seeds of 1 whole vanilla bean or 1/2 teaspoon vanilla extract
zest of 1 lemon (optional)
1/2 teaspoon cinnamon (optional)
1 teaspoon fresh mint, chiffonade (optional)
Yield: 4-6 servings
Preheat oven to 375F/ 190C. Add the rolled oats to a high speed blender, or food processor, pulse until the oats resemble a course flour. Add buckwheat flour, poppy seeds, and salt. Pulse to combine.
Add chilled coconut oil and honey to the flour mixture and pulse just until it becomes crumbly. Slowly add the ice water (you may not need it all) until the dough somewhat comes together. Be careful to not over mix.
Place a piece of plastic wrap on your counter and turn the dough out onto it. Gently form the dough into a round puck, about 1 inch thick. Wrap up the dough in the plastic wrap and place in the fridge for about 20-30 minutes. Do not leave it in too long or else the coconut oil will harden and the dough will crumble.
Meanwhile, carefully combine all the filling ingredients in a large bowl and toss to coat with the honey mixture.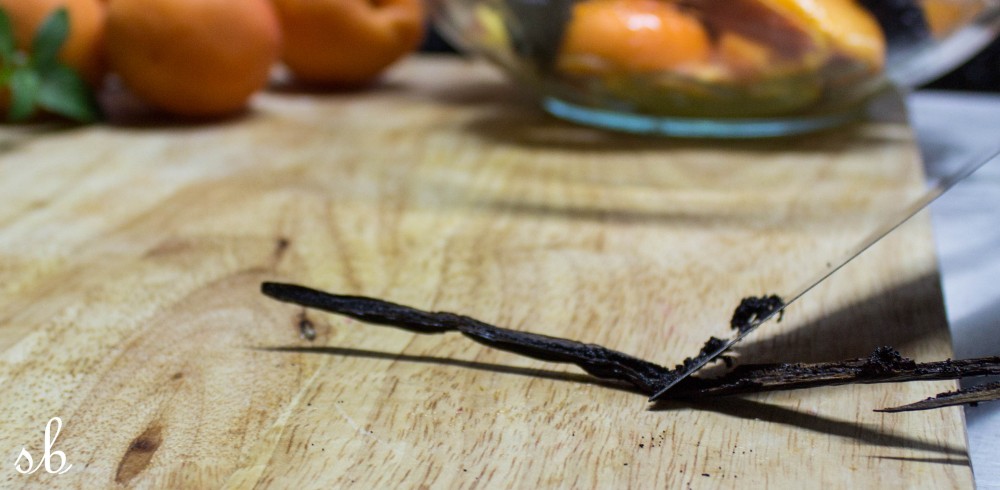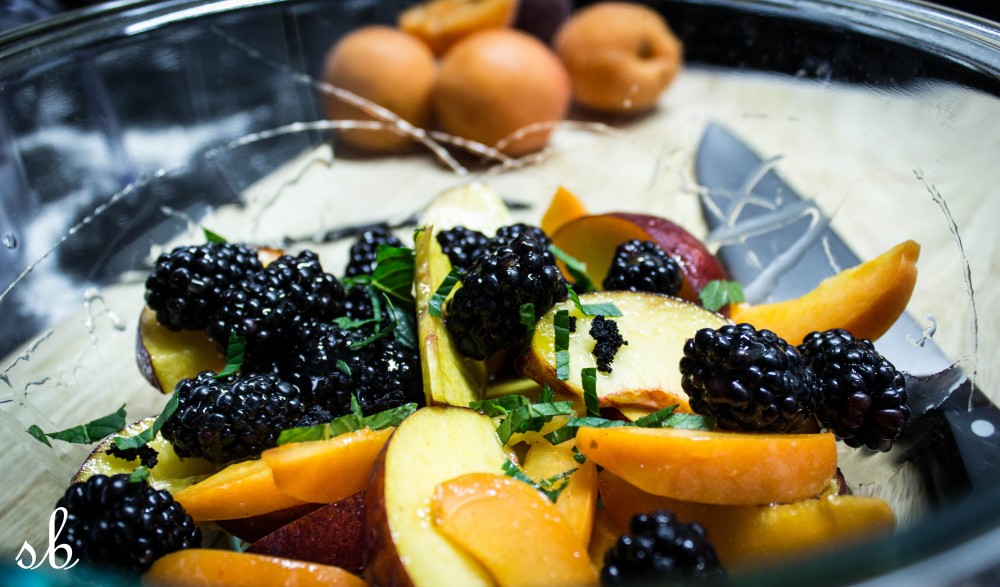 Remove the dough from the fridge and place on a piece of parchment paper. Carefully, begin to flatten out the dough with your hands (you may leave a piece of plastic wrap between the dough and your hands/rolling pin) into a circular shape. Show it some love; chances are a few cracks will pop up along the way because of it's chilled state. As it warms up, the dough will come back together. Continue to roll out the dough into a circle until the diameter is roughly over 1 foot wide. *I had to use a left over glass bottle as a rolling pin, because I don't have one out here yet!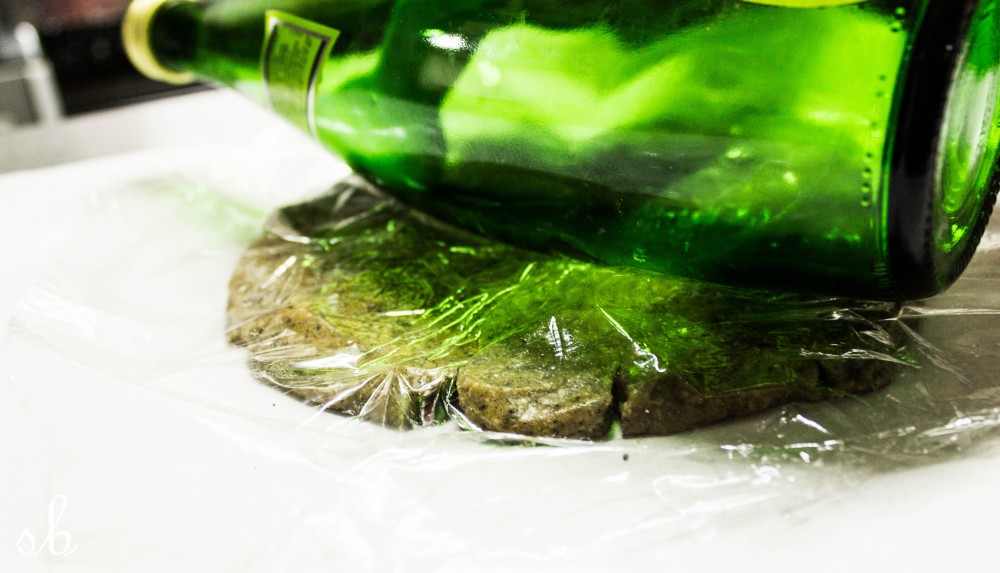 Creatively place the filling in the center of the dough, leaving about 1 1/2 inch-2 inches space all around. Then, going around the circle, use the parchment paper to pick up the edges and fold over onto the filling. Remember, rustic, free-form. Make sure all edges of the filling are covered.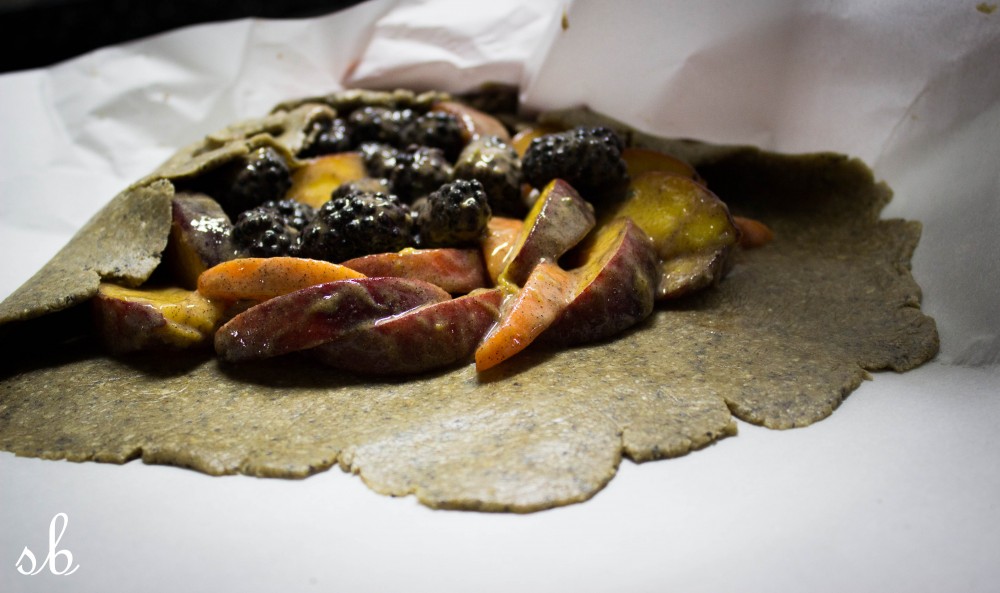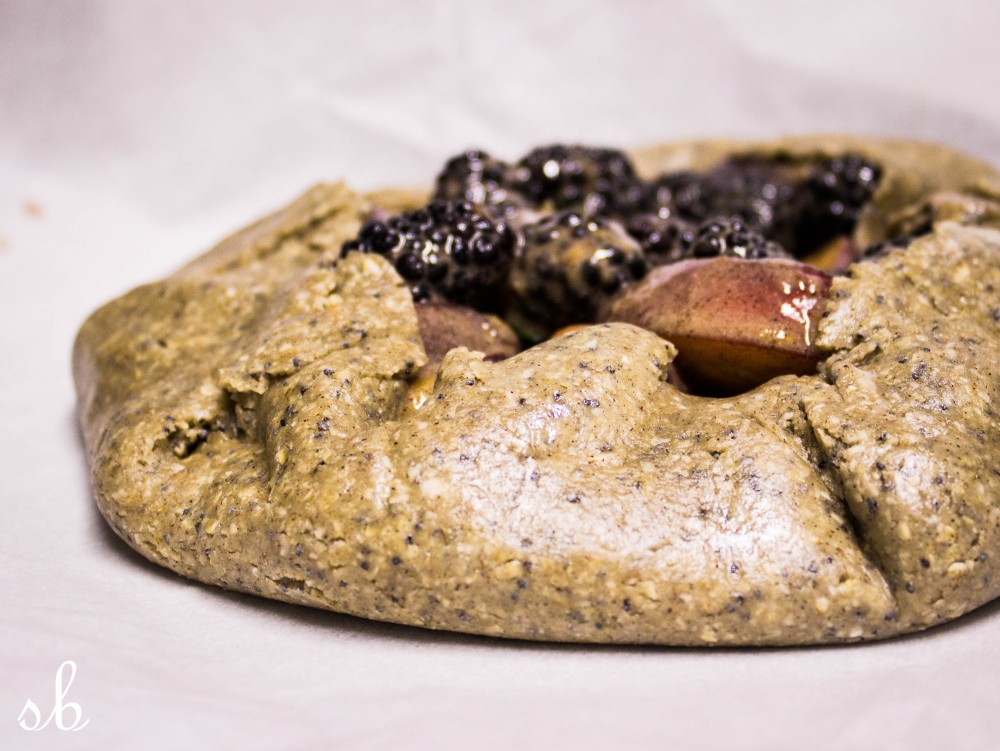 Place the galette and parchment paper on a baking sheet and bake for about 35 minutes. Cool *almost* completely before cutting. I like mine just slightly warm. Drizzle with a touch more honey, dust with a pinch of cinnamon or use a dollop of coconut yogurt and you have the perfect piece of heaven on your plate.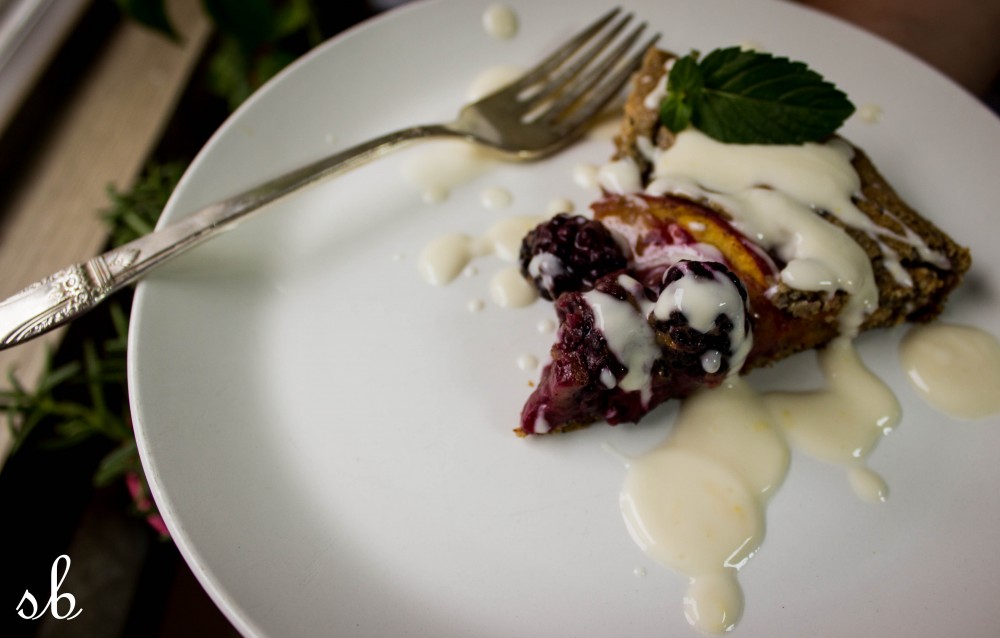 Bon appétit.
[1]Wood, Rebecca.
The New Whole Foods Encyclopedia.
New York: Penguin Books, 2010. Print.
0