I'm a snacker. Crunchy, salty savory, even cheesy, tasty delights. I like to always make sure I have healthy treats on hand for snack-attack situations. Seed crackers are an all time favorite of mine. Dip them in hummus, top with a little goat cheese, maybe some pesto or tapenade, nut butters, even preserves and jelliesWhen trying to snack healthy, there's more than just carrot sticks (snore).
These Rosemary Seed Crackers are vegan, gluten-free, corn-free, soy-free and even raw (depending on what method you choose). Now, I hate putting "-free" labels on foods but I know it is important for those with allergies to know. Labeling our foods, our diets, and ourselves is way torestricting and diminishes the awesome-ness of eating.
After such a long list of things these crackers don't have, what in the world do they have?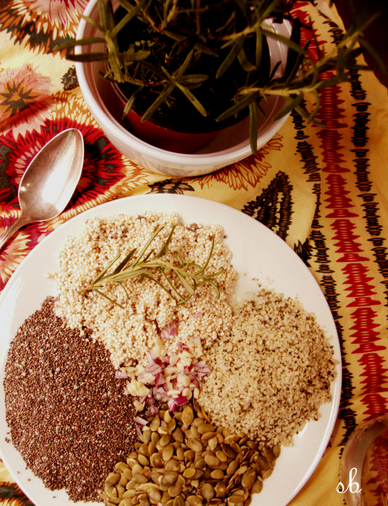 Chia seeds- You can thank the Aztecs for this seeds' gain in popularity (Christopher McDougall's Born to Run helped). The chia seed has long been known as an endurance super-food. A relative of garden sage and included in the mint family, chia looks like poppy seeds and can be golden or gray/black. Grown mainly in the US Southwest and Mexico, chia seeds have become readily available in most natural markets and even large grocery stores. Chia is an excellent source of omega-3 fatty acids, fiber, and protein. Like flax or sesame, chia seeds also boast impressive amounts of phosphorus and manganese. More calcium than milk, more antioxidants than blueberries and more vitamin C than oranges, this seed is packed with nutritional benefits.
Chia seeds form a gel when soaked in water (or other liquids, almond milk for chia-pudding mmm). The gel can actually be used as an egg substitute in many baking applications. This aspect of the seeds also plays an important role in helping our bodies stay hydrated. Toss some in your water bottle with a little lime juice and you will have a surprisingly refreshing beverage. Finally, this seed is great for diabetics because it can help balance glucose levels.
Hemp seeds- Hemp is not just for hippies. Hemp milk, hemp protein and hemp seeds have become popular and for good reason. Hemp seeds contain all nine essential amino acids, making it an excellent source of protein for vegetarians. In fact, hemp has been described as an easily digested protein by those who usually run into issues with whey. Balanced omega-6 and omega-3 fatty acids, with a side of healthy fiber, allows these seeds to help us to stay fuller, longer. Unlike soy, hemp does not contain phytic acid (Paleo rejoice!) and therefore will not hamper with our body's' ability to absorb minerals.
The flavor of hemp seeds is pleasantly mild and nutty and the texture is noticeably more tender than other seeds. I sprinkle these seeds on salads, blend into smoothies, mix into oat pancake batter, sprinkle on avocado etc.
Sprouted quinoa- If you read my last post, you probably picked up on my obsession with sprouting. I have sprouted mung beans, lentils, quinoa, alfalfa, garbanzo beans, sunflower…the list goes on. Hemp seeds are next. By sprouting my quinoa for about 2 days (until the tiny tails are just about the same length as the seed), I was able to add it to my cracker mix without cooking it first, therefore retain more of the nutrients. Sprouted quinoa can be eaten raw or cooked, either way the sprouting process makes the nutrients more available.
Quinoa is a complete protein, popular among vegans and vegetarians. Low in calories but packed with complex carbohydrates, quinoa is an great alternative to plain white rice in pilafs and stir-fries. This super-food also has more calcium than milk, is high in lysine, iron, phosphorus, and vitamins B and E. I particularly love its versatility. Quinoa can be used in breakfast porridge/oatmeal, gluten-free tart and quiche crusts, in pilafs, salads, garden burgers and more.
Pepitas- This "little seed of squash" is an awesome addition to any salad, cereal, granola, banana ice cream or crackers. Pepitas, aka hulled pumpkin or squash seeds, are loaded with magnesium, potassium, phosphorus (essential for healthy bones), iron, protein and fatty acids. Similar to coconut, pepitas also have antimicrobial and anti-fungal properties. They also have an impressive phytonutrient profile containing certain antioxidants that will protect our bodies from free-radicals. Furthermore, pepitas are not considered an allergenic food so those with sensitivities, including gluten, can rely on these little green seeds.
These are the four seeds I chose to include in my crackers but any combination would be great. I suggest keeping the chia seeds because the gelling action helps hold the crackers together. Some other options:
sesame seeds

sprouted millet
sunflower seeds
flax seed or ground flax
amaranth
chopped nuts
nutritional yeast flakes
spirulina (though it has been debated if heating spirulina messes with it's nutritional benefits)
Any combination of fresh or dried herbs and spices can be added as well. I went with just a hint of fresh rosemary and sea salt for these.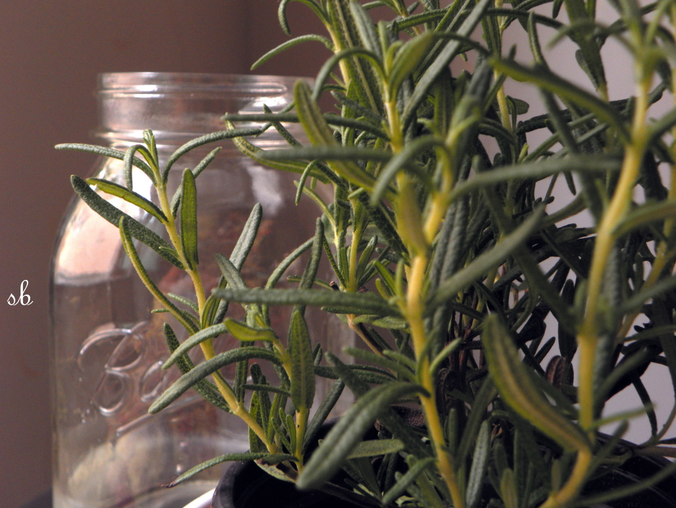 Gluten-free Rosemary + Seed Crackers
1/2 cup chia seeds

1/2 cup raw, shelled hemp seeds
1/2 cup sprouted quinoa
1/2 cup raw pepitas
1 large garlic clove, minced or shredded
~ 1 Tablespoon raw red onion, minced or shredded
1-2 sprigs fresh Rosemary, leaves removed. You can use whole leaves or mince them. I left mine whole because they look pretty 🙂 Dried Rosemary can also be used.
1 cup water
1/4-1/2 teaspoon sea salt, depending on taste
Yield: ~One dehydrator sheet of crackers or one sheet pan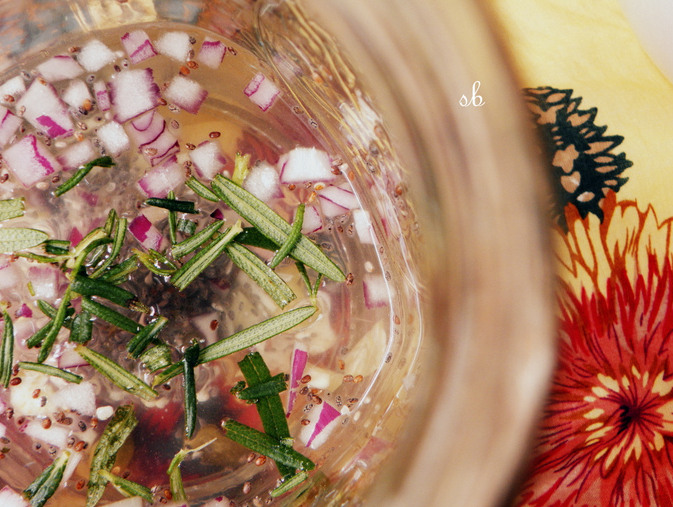 In a medium bowl (or large mason jar) stir together the garlic, onion and water. Add salt and Rosemary.
Add chia seeds to water mixture and stir vigorously. Allow the mixture to sit for a minute or two until it starts to thicken into a gel.
Add remaining ingredients and stir to combine.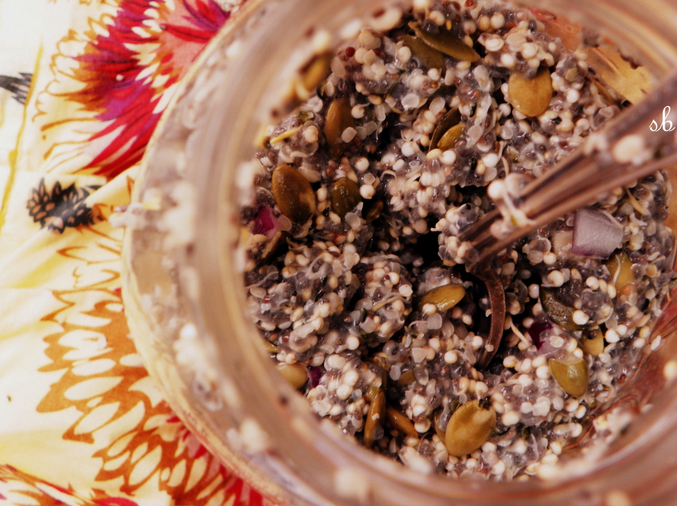 Now you have a choice. I used my dehydrator for my crackers, making the end result considered "raw." If keeping the crackers raw is not important to you or if you do not have a dehydrator. you can simply bake them at 325F/160C for about an hour, flipping once halfway through.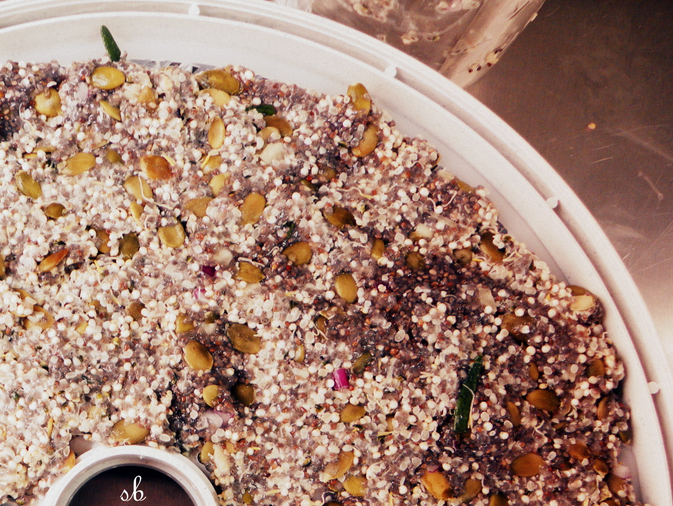 Dehydrator method: I suggest using a flexible clean- screen tray to prevent your crackers from sticking. Schmear (definitely a word) the seed mixture evenly over your clean-screen lined dehydrator tray. Try to make it as even as possible so it all dehydrates at the same rate. Pop into your dehydrator at 105F/40C. I dehydrated my crackers over night, and then some. Just be sure to check on them periodically. About half way through, you can score the crackers with a knife or pizza cutter, if you hope to have pretty little crackers. I waited until mine where completely dried and just sort of broke them into pieces, because I like that messy, homemade, organic look. You know the crackers are done when there is no moisture left when you break them apart.
Oven method: Line a baking sheet with parchment paper and spread the seed mixture evenly over the pan. Place on the middle rack of the oven and bake at 325F/160C for about 30 minutes. Remove, cut with a knife or pizza cutter if you wish. Try to carefully flip the crackers, and then return them to the oven for about another 30 minutes. This will result in a slightly more "toasty" cracker, just be sure not to burn them!
Once cooled, store in an airtight container.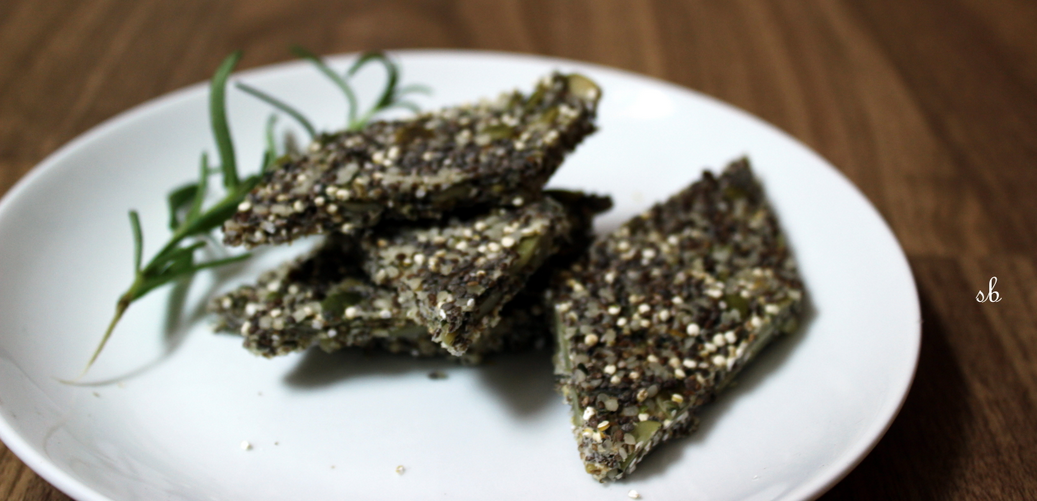 These crackers are great on their own, or with any topping you can think of. Be creative. While writing this post, I have been enjoying mine topped with sliced avocado and a bit of sea salt.
Divine.
Related articles across the web
0