Funny name, but damn good dumplings…
If you have not heard of the pierogi, you are in for a treat. This Polish delight is the definition of comfort food, conveniently wrapped in perfectly portioned pockets of love. My US East coast readers are probably well acquainted with the pierogi, seeing as Pittsburgh has more shops making the pockets than anywhere else in the states.
If you haven't figured it out by now, the pierogi is the Polish version of a handmade dumpling. Traditionally, the unleavened white flour dough is filled with mashed potatoes, cheese, onion, and/or sauerkraut. It wouldn't be Eastern European without the mighty kraut now would it? The dumplings are typically boiled and then fried in onion and butter to form a nice little crust. Top with sour cream, creme frache, or even apple sauce and you are well on your way to Polish paradise, culinary speaking.
As a kid, I was convinced that Grandma's pierogies were ears from some animal (pig ears?). Appetizing? Odd, Grandma never struck me as the butchering type… I knew they weren't ears but I just couldn't get over their appearance. Fleshy, shaped like little… I refused to eat them. One Christmas, I finally gave them a try and oh boy, I immediately knew I had been terribly mistaken. Pierogies were awesome! Especially in all their buttery glory.
With this recipe, I wanted to trim down the rich traditional pierogi and make it a little more nourishing. It's what I do. This is my adaptation from a post on FOOD52. In my recipe, I replaced the all-purpose white flour with organic whole wheal flour. I bet whole-wheat pastry flour would perform even better. I swapped the mashed white potato and cheese filling for sweet potato, apple, and sage. Sliced apples and red onion, both caramelized to gooey perfection made the topping for these Polish pockets of greatness. I should mention, these are still a little more decadent but totally worth it.
Sweet Potato Pierogi
Dough
2 1/2 cups sifted organic whole wheat flour
1 teaspoon sea salt
2 Tablespoons olive oil
2 organic eggs
1/4 cup sour cream (optional)
Filling
4 cups peeled, cubed, raw sweet potato
1/2 organic apple, cubed
1 Tablespoon dried, rubbed sage
4 Tablespoons organic unsalted butter or coconut oil
1 Tablespoon organic maple syrup or agave (more or less, depending on how sweet you want it)
salt and pepper
olive oil
Topping
1 large red onion, sliced
1/2 apple, sliced
1 sprig fresh thyme (or dried)
olive oil
Yield: about 20 pierogies, depending on how big they are made
Filling
In a large bowl, toss cubed sweet potato and cubed apple with healthy pinches of salt and pepper and drizzle enough olive oil to coat. Arrange in a single layer on a non-stick or foil lined baking sheet and roast about 40 minutes. The edges of the apple and sweet potato should be nice and caramelized.
Once caramelized, put the cooled apples and sweet potato in a high speed blender or food processor. Add unsalted butter/coconut oil, dried sage, and maple syrup/agave. Blend until smooth. Careful as the contents will warm. Place in the refrigerator to cool.
Dough
While the filling cools, combine the flour and sea salt in a large bowl. Make a well in the center and add one egg at a time to the center and slowly swirl in the flour. Repeat with the second egg and swirl until combined. Add olive oil and sour cream and kneed the dough a few times until it comes together in a ball. The sour cream creates a more tender dough but you can omit it if you wish. Just add a third egg. The gluten in the dough will become elastic. Do not overwork the dough or else it will become very tough. You may need to lightly flour your kneading surface. Place the ball aside in a bowl and cover with a tea towel. Let the dough settle for about 15 minutes.
Topping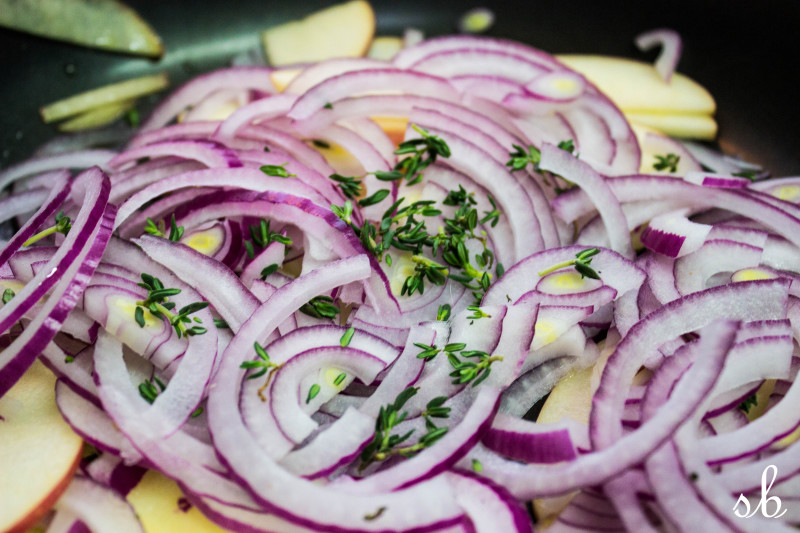 While the dough settles and the filling cools, you can begin on the topping. Heat a hefty drizzle of olive oil in a skillet over very low heat. Add thinly sliced red onion and apple, along with fresh thyme leaves (or dried). Cook low and slow, stirring occasionally, until the apples and onions become very soft and caramelized.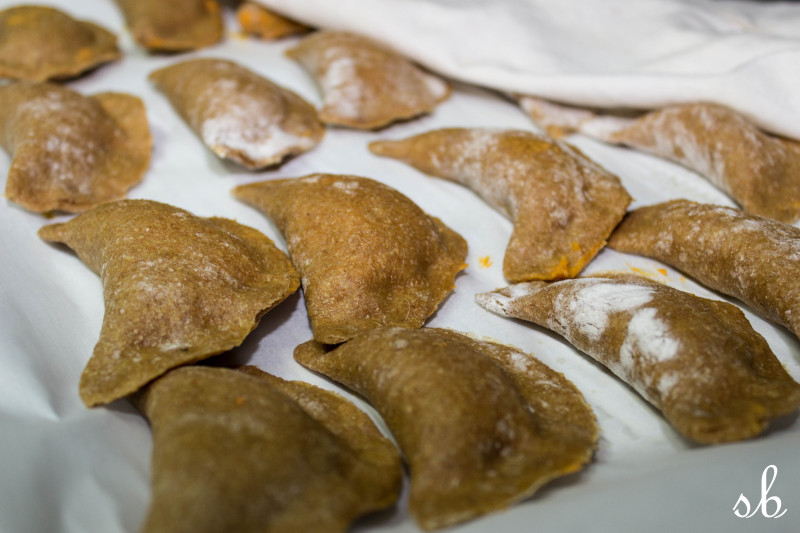 Assembly
Split the dough in two and set one half aside and cover with a tea towel. Lay out a piece of parchment paper and lightly dust with flour. Roll out the dough on the parchment to about 1/8 inch thickness. Using a biscuit cutter, large mouth mason jar, cookie cutter, or pierogi cutter, begin in the center and punch out circles of dough. Take care to eliminate as much scrap dough as possible. You will not want to regather the scraps of the dough and re-roll multiple times because it will become super tough and rubbery. Place just less than 1 Tablespoon of cooled sweet potato and apple filling into the middle and use your finger to dab a bit of water around the edges. Fold in half (this dough stretches nicely over the filling to take advantage of that) and seal the edges with your fingers or a fork. Keep the finished pierogies covered with a tea towel. Repeat the process with the second half of dough.
This is a great time to have someone help. It's a great activity to plotka over with a friend to pass the time. You will want to work quickly so that the dough does not dry out. My husband rolls and cuts the dough as I fill and seal.
If not eating right away, place pierogies in a single layer on a baking sheet and freeze. You can layer with parchment paper. Once frozen solid, you can place the raw pierogies in freezer plastic bags and they will keep for a couple months.
Cooking
Bring a large pot of lightly salted water to a rolling boil. Gently add a few pierogies at a time, either fresh or frozen. When the pierogies float to the top, they are done (make sure they don't stick to the bottom of the pan). Then quickly pan fry the pierogies in a bit of olive oil or butter in a skillet. This forms a nice, golden crust on the outside while the inside remains pillowy soft. Top with the caramelized onions and apples.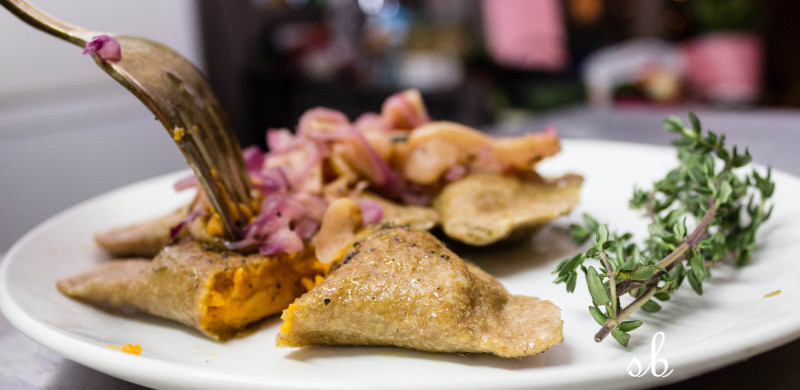 I love pairing these with an arugula salad with goat cheese and a balsamic vinaigrette. Swiety Jacek z pierogami!
Related articles across the web
0