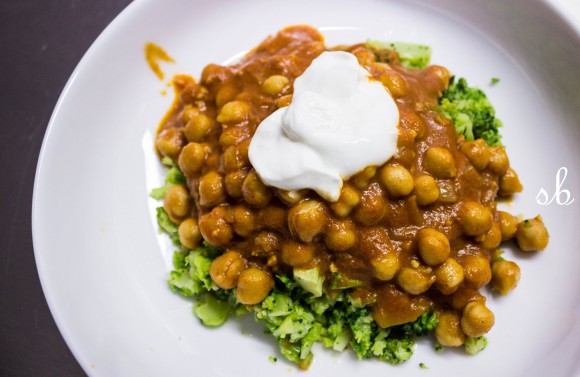 Oddly enough, for as long as I have followed a vegetarian diet, I had never really dabbled in the world of Indian cuisine. It was not until I moved to Korea that I experienced this culinary wonder, thanks to my good friend Jenna. She shared with me her love of Indian food and boy do I owe her. I guess I had always been intimidated by the spice combinations and I was convinced that I could never get it "right." Truth is, once you get the staples, you can't really mess it up. And the result is truly epic.
Chana masala has become my go to choice when I find myself in an Indian dining establishment. Accompanied with basmati rice, some ghee slathered naan, and a thick glass of mango juice; too good for words. The, uhhh… "unique" smells of Indian cuisine are entirely forgivable once your taste buds experience the depth and delight of flavors.
Aside from the fried options, Indian cuisine is overall fairly healthy. Spices, vegetables, beans and lentils, and ghee (clarified butter) all do a body good. Don't fear the fats! I use coconut oil in my version, simply because I have that on hand more often than ghee. But either is essential to the recipe and should not be omitted. Our bodies need healthy fats to keep our cells happy and our brain healthy.
Cinnamon is the rock-star of this recipe. I prefer Ceylon or "true" cinnamon, which hails from Sri Lanka and southwest India but the Cassia variety (Chinese) is awesome as well. The aromatic, sweet, and warming properties of cinnamon make it a wonderful food enhancer during the winter months. Some of the scientifically confirmed effects of cinnamon include stimulation of the circulatory system, digestion aid, anti-ulcerative properties, anti-inflammatory properties, and antibiotic properties [1]. A more recent study even suggests positive health implications for those with type 2 diabetes. Benefits of cinnamon can be attributed to its cinnamaldehyde, cinnamyl acetate, and cinnamyl alchol content present in the essential oil [1]. It smells good, tastes good, and is good for you; it's no wonder this ancient spice was at one time considered more precious than gold.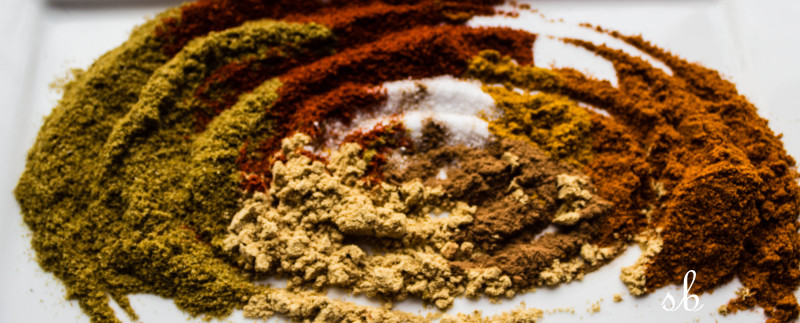 This is the ultimate one-pot-wonder that will give you a flavorful, satisfying, and complete meal. After looking up the basic spice profile for masala, I created my own take on Chana Masala (like chicken Tikka Masala but with chickpeas). The lycopene and antioxidant power from the tomato sauce, healing properties from fragrant spices, nourishing fats, and protein from the chickpeas (or chicken) make this a fantastic go-to meal. It freezes well too. My husband likes his with cubed organic chicken breast. We probably eat this at least twice a week because it is easy, warming, and outrageously delicious. This batch is about 8 servings, possibly 12 if you stretch it. My husband and I usually get 6-8 servings; our portions are generous.
Chana Masala
¼ cup organic, cold pressed coconut oil (or ghee, if you have it)
2 large yellow onions, chopped
8 cloves garlic, minced
2 Tablespoons cumin
1-2 teaspoons sea salt (depending on if your tomato sauce has added salt)
2 teaspoons ground ginger
2 teaspoons cayenne pepper (add more or less, depending on how spicy you want it. We like it medium.)
1 teaspoon ground Ceylon cinnamon
½ teaspoon Hot Madras Curry powder (any curry powder will work, Hot Madras just has an extra kick)
2 (14 ounce) cans of organic, low-salt tomato sauce (make sure it's BPA free; Muir Glen is a great brand)
2 cups unsweetened almond milk
1 Tablespoon + 1 teaspoon paprika
2 Tablespoons coconut sugar/stevia/lucuma powder
2 cans organic chickpeas, drained and rinsed
*Optional
4 organic chicken breasts, cubed
Yield: 8-12 servings
Heat coconut oil over medium heat in a large sauté pan or sauce pan (I prefer the sauté pan). Once melted, add onion and cook until translucent. About 5 minutes.
Add garlic and continue to cook for another minute.
Add cumin, sea salt, ginger, cayenne pepper, cinnamon, and Hot Madras curry powder. Fry to about 2 minutes, until very fragrant.
Add tomato sauce and bring to boil. Then reduce heat to low and simmer 10 minutes. Stir occasionally.
Add almond milk, paprika, and sweetener of choice. Simmer for 15 minutes, until thickened. Stir. Add chickpeas and simmer another 5 minutes or until chickpeas are heated through.
*If adding chicken, heat some coconut oil in a skillet over medium heat. Add cubed chicken and coat with curry powder. Sear until just the outer part of the chicken is cooked. Transfer chicken and any remaining juices to the masala sauce and simmer another 30 minutes or until the chicken is cooked through.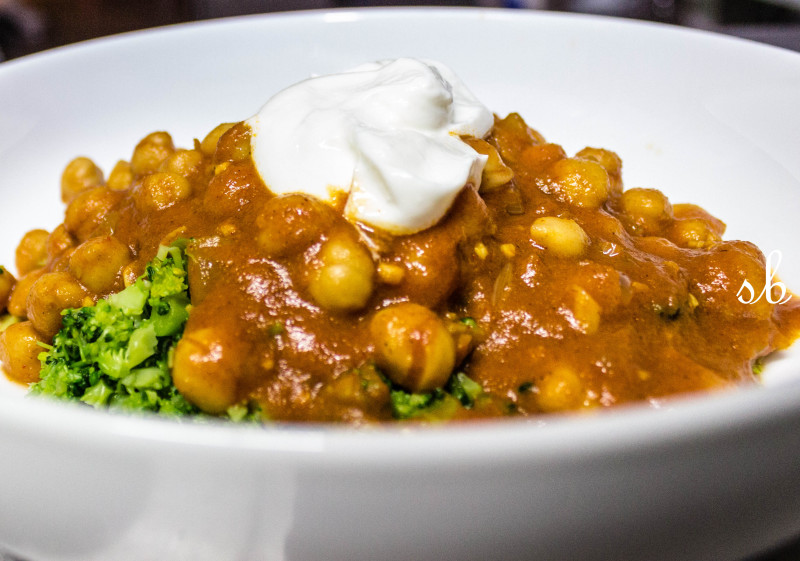 Simmering times are important so don't skimp. This allows the masala to develop complex flavors from all the spices. Serve over basmati rice, quinoa, or broccoli rice (my favorite) with a side of naan. Top with a dollop of plain Greek yogurt to cool down the cayenne, if you wish. I make large batches and freeze it. That way, I can have dinner in a hurry by just heating it up and pouring over some rice. Done and done. I love this stuff.
[1] Murray, M. T., Pizzorno, J. E., & Pizzorno, L. (2005).
The encyclopedia of healing foods
. New York: Atria Books.
Related articles across the web
0