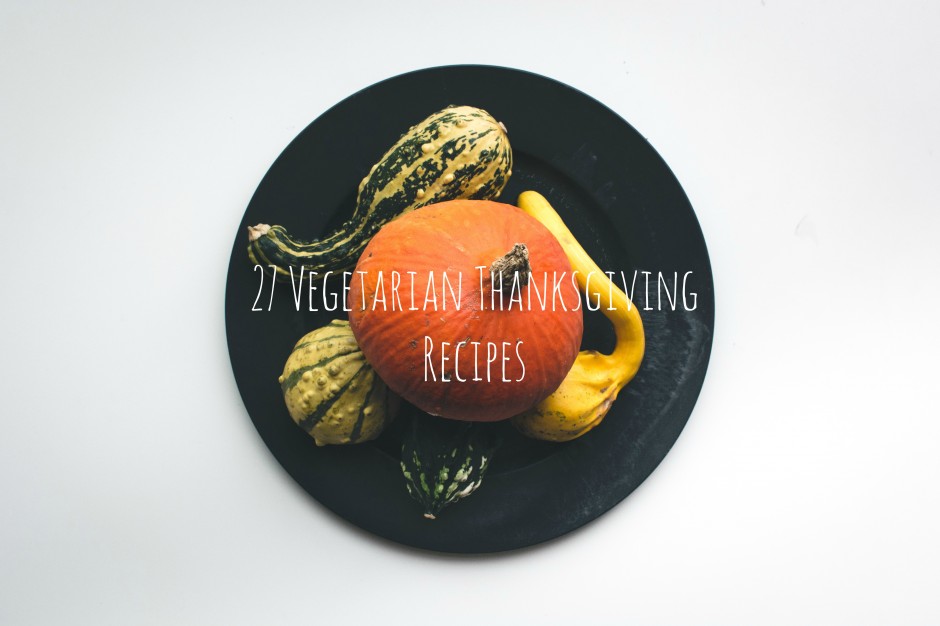 Whether you are hosting Thanksgiving this year or you are welcomed to a friend or family member's, chances are you are going to be preparing at least one dish to share. Below are 27 healthy, carnivore-approved, vegetarian Thanksgiving recipes you may want to try!
Goat Cheese Dip with Red Wine Figs // Vegetarian Ventures
Crispy Sweet Potato Roast // Smitten Kitchen
Caramelized Sweet Potato Pierogi // SoulBeet
Lentils with Wine-Glazed Vegetables // 101 Cookbooks
Festive Chickpea Tart // Dreena Burton's Plant-Powered Kitchen
Chickpea & Pomegranate Dip // Reclaiming Provincial
Quinoa Stuffing with Apple, Sweet Potato, and Hazelnuts // Family Fresh Cooking
Vegetarian Shepard's pie with Garlic Potatoes // The Fig Tree
Mushroom and Barley Pie // Smitten Kitchen
Avocado & Quinoa Stuffed Acorn Squash // Love & Lemons
Salted Caramel Pecan Pie without Corn Syrup // The Spunky Coconut
Vegan Shell Pasta Bake with Mushrooms & Truffle // Hortus Cuisine
Vegan Pumpkin Swirl Cheesecake // Minimalist Baker
Fig & Anise Pull-Apart Bread // Happy Yolks
Vegan Pumpkin Cheesecake Squares // SoulBeet
Wheat Berry Salad with Whiskey-Soaked Cranberries, Kale, & Roasted Butternut Squash // Floating Kitchen
Warm Lentils with Fennel & Halloumi // Yummy Beet
Vegan Butternut Squash and Apple Soup //Jessica in the Kitchen
Butternut Cranberry Muffins with Maple Pecan Crumble // Faring Well
Simple Vegan Stuffing // Minimalist Baker
Butternut Squash Fennel & Apple Galette // Nutrition Stripped
Pumpkin Cheddar Stuffing // Oh My Veggies
Pomelo Green Beans // 101 Cookbooks
Mouthwatering Mashed Potatoes with Groovy Onion Gravy // VegKitchen
Foolproof Vegetarian Gravy // Vegetarian Times
Vegan & Paleo Autumnal Aubergine Dip // The Little Plantation
Barley Risotto with Garlicky Mushrooms // Food & Wine
Bonus: Thanksgiving Table Setting Inspiration @ theKitchn
Now, cook up a pumpkin stuffing, vegan gravy storm!