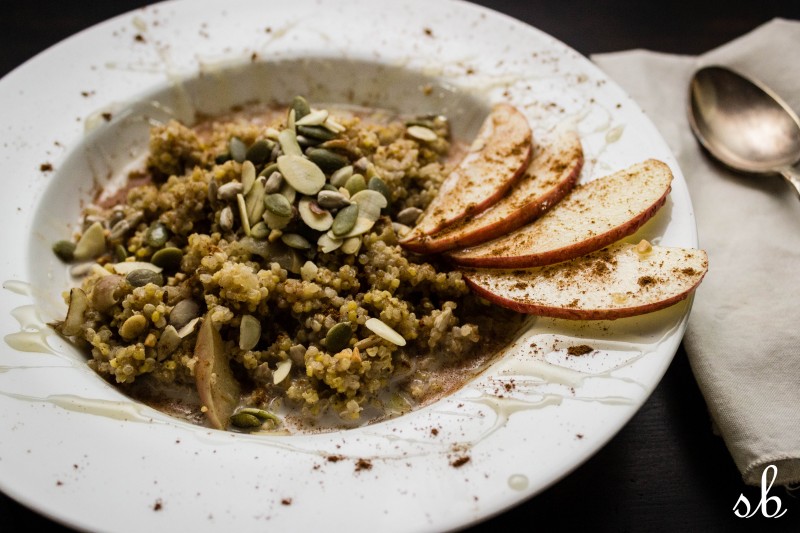 Autumn is on its way so I decided to share a super simple, but wonderful, spiced porridge. Ok, all porridge is simple and the name itself sounds un-glamorous and frumpy. Goldie Locks (who in the original tale is a crusty old woman) felt the need to risk breaking and entering for a bowl of the stuff. Really though, can you imagine the old, neighborhood nut-job lady sneaking into your place to eat your food, smash some furniture, and crash in your baby's crib? Who thinks of this sh*t?
Anyway, I bring you the first post of many quinoa-based delights. This little pseudo-grain is everywhere and I briefly described its awesomeness in my seed crackers post here. Today, I will introduce you to the teeny, yellow spheres known as millet. I stuck with just quinoa and millet as the main ingredients for this recipe but amaranth, steel cut oats, farrow, brown rice, or barley would be splendid.
Millet is not just used in birdseed (I hear stories of another little something that used to be found in birdseed back in the day….). Millet hails from South Africa and spread through India, China, and Russia. The clever Egyptians mixed it with beer to make fluffy bread. This grain was a staple thanks to its versatility and nutrient value. The protein content is far superior when compared to other historic staples; corn, rice, and wheat [1]. On average, millet is made up of about 10-12 percent protein, while also providing phosphorus, magnesium, thiamine, riboflavin, niacin, and B6 [1]. Hypoallergenic and gluten-free, these little beads are usually well tolerated by those with sensitivities (millet is not in the grass family, yet it might have some components similar to the alpha-gliadin found in wheat. If you have celiac disease, proceed with caution).
Spiced Quinoa + Millet Porridge
2/3 cup rinsed quinoa
1/3 cup rinsed millet
3 cups unsweetened vanilla almond milk (Or any milk of your choosing. Water works.)
1 teaspoon cinnamon or 1 cinnamon stick
1 teaspoon vanilla extract or 1 vanilla bean scrapings
1/4 teaspoon ground ginger or 1/4 inch grated fresh ginger
1/4 teaspoon ground nutmeg
1/2 apple, thinly sliced
honey
any seeds, nuts, or dried fruits for toppings
Yield: about 4 servings
Rinse quinoa and millet under cool water thoroughly and add to a medium sauce pan with the almond milk, cinnamon, vanilla, ginger, nutmeg, and apple slices. Bring to boil and then reduce heat to low and simmer covered, for 15-20 minutes. The quinoa and millet are done when all the milk is evaporated and you can fluff the mix with a fork. Remove cinnamon stick, if using.
Mix and serve warm. Top with a generous dizzle of honey, a splash more of almond milk, raw apples slices, pumpkin seeds and a dash of cinnamon. Actually, top it with whatever you want. This is just what I did and let me tell you, the pretty little bowl above only lasted 5 minutes; 4 minutes while I took the photo and 1 minute while I devoured it.
Pair with a mug of strong, black coffee and the day is yours.
[1] Murray, M., Pizzorno, J., & Pizzorno, L. (2005). The encyclopedia of healing foods. New York: Atria Books.
Related articles across the web
0