If someone were to ask me what my staple cosmetics item would be, it would be mascara. Before switching to all natural companies, I would always be on the hunt for the best way to get the lush lashes I have always wanted. I have decent lashes, they are just blonde and pretty much invisible. L'Oreal and Maybellinel were typically my go to brands when it came to mascara (any other L'Oreal Voluminous or Maybelline One-by-One lovers out there??). While they were effective, they did flake and smudge. I hate waterproof mascaras and because I wear contacts, flakes of coal falling in my eyes is a pain in the butt. My eyes were always slightly irritated from the crunchy feel of my lashes but that's the price we pay right? Eh nah. I began doing some research and truth is, there are some down right sketchy things added to mascara in particular that I bet if you knew about them, you would think twice. Sure, makeup is not a necessity and of course it would be easiest to just stop wearing it but you don't have to.
Mercury
Tuna is not the only thing you need to be concerned about when it comes to mercury; the FDA and the European Union still allow the use of mercury in mascaras as a preservative (small amounts). You probably won't find it on the ingredients label because unlike food, the FDA does not require cosmetic companies to list all ingredients to their products. The cosmetics industry is overall very loosely regulated but I will go into that another time. Mercury is known to do nasty things to our bodies and placing it directly around the delicate eye area seems…..risky?
Beryllium
Another heavy metal which is common in conventional mascaras. Oh, and it is a known carcinogen that is able to penetrate our skin.
Arsenic
Pretty sure you know what this one is. Again, a common little addition to conventional cosmetics, especially those claiming to be mineral-based.
Cadmium
If you aren't familiar with cadmium, I suggest you do a quick Google search for "cadmium poisoning." Nasty stuff, and it only takes exposure to trace amounts to begin developing flu-like symptoms. This toxic metal is what, in 2010, caused Wal-Mart to stop selling Miley Cyrus jewelry; it all contained cadmium (maybe that explains her twerking…). But, it is still allowed in your mascara.
Formaldehyde
This is particularly common in many cosmetic and personal care items. It is a preservative, and a darn good one (high-school biology, anyone?). And no, it will not preserve your lashes. But it can give you cancer.
The list goes on, not to mention animal cruelty and environmental damage. We love the "feel" of conventional products because of all the chemical additives, fragrances, and silicons but those things are only potentially hurting our bodies. We are so used to the artificial qualities of these products that when we try natural alternatives, we are less than impressed. But, it doesn't have to be that way. This mascara I am about to share with you is proof of that. Another day, I will go more in depth about what ingredients people should have on their radar. Always researching and learning.
I have to add, I am simply sharing this information because I found it alarming and I do not think enough people are aware of what they are putting ON their bodies. (Our skin is quite permeable, contrary to what we once thought.) So this is just that, information, which you can take or leave. I hope I encourage you to take the power into your own hands and to do a little research yourself. Check out PubMed or PMC for some peer reviewed research and evidence that elaborates on what I have said here. Don't just take my word for it, educate yourself and be mindful. ♥
Now, on to the all natural mascara.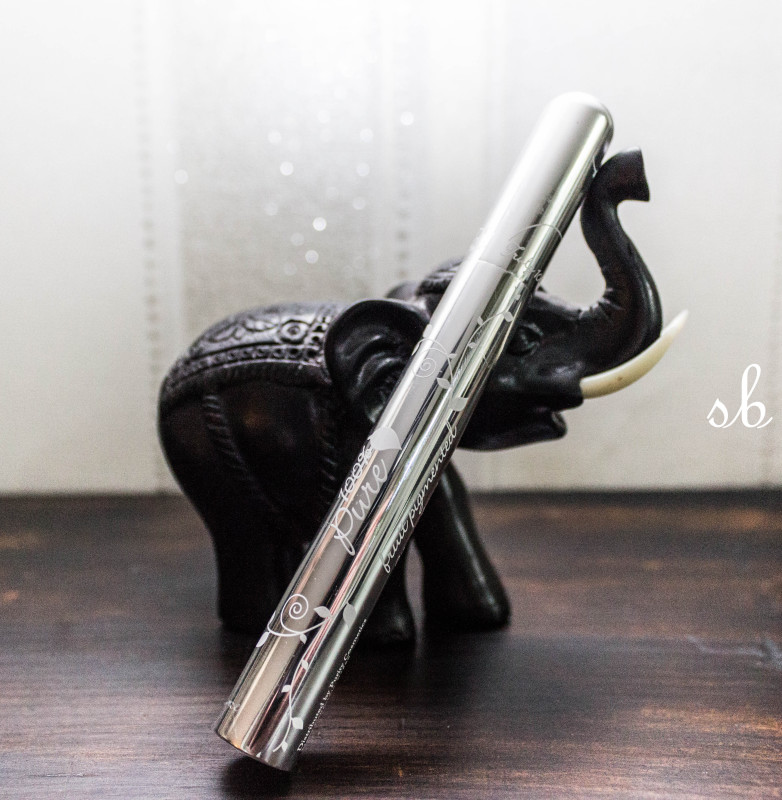 100 Percent Pure is an amazing company with great cosmetics and skin care products. As the name suggests, everything is 100% natural, vegan, and cruelty free. The products are all pigmented with fruit, no joke. This mascara is dyed with black tea and berry pigments; actually smells like blueberries! I got the Black Tea color because black is just classic for mascara. They also have Dark Chocolate, Blackberry, and Blueberry.
Camellia Sinensis Leaf Extract (Organic Green Tea), Tocopherol (Vitamin E), Cera Alba (Honey Beeswax), Rubus Fruticosus Fruit Extract (Blackberry Extract), Ribes Nigrum Fruit Extract (Blackcurrant Extract), Rubus Idaeus Fruit Extract (Raspberry Extract), Hydrolyzed Oat Protein (Oat Protein), Hydrolyzed Wheat Protein (Wheat Protein), Pantothenic Acid (Pro-vitamin B5), Fucus Vesiculosus Extract (Seaweed Powder), Coconut Stearic Acid (Coconut Acid), Mica, Theobroma Cacao Seed Butter (Cocoa Butter), Pearl Powder, Oryza Sativa Germ Powder (Rice Powder), Theobroma Cacao Extract (Cocoa Powder), Coffea Arabica Seed Extract (Powdered Coffee Beans), Mel (Lavender Honey), Origanum Vulgare Leaf Extract (Oregano Extract), Thymus Vulgaris Flower/Leaf Extract (Thyme Extract), Rosmarinus Officinalis Leaf Extract (Rosemary Extract), Lavandula Angustifolia Flower/Leaf/Stem Extract (Lavender Extract), Hydrastis Canadensis Extract (Goldenseal Extract)
According to their website, this mascara is nourishing as well. It contains vitamin B5, vitamin E, and oat and wheat proteins. It claims to lengthen, separate, thicken, and gloss your lashes. I don't know how they do it but I love it. It contains no preservatives so of course it needs to be used up, which makes it perfect for daily use. Yes, it is spendy but I find that I actually need less, really only one coat, to get the effect I like. I think the price is nearly justified given all the yummy ingredients. Below, the first picture is me with no makeup, next picture is with one coat of the mascara, and the last picture is with two coats.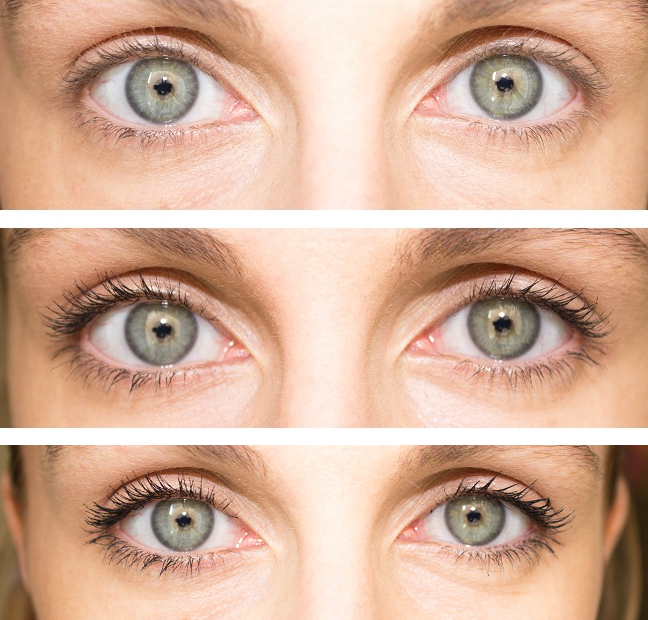 I don't really know why one eye looks better than the other, snaggle clump, but that is just operator error. I think it is great for daytime use and it does not irritate my eyes. I imagine it would layer well for a more dramatic nighttime sexay look, if that's your fancy.
Where to buy it
Of course, you can go through their website directly (they will give you free samples), but I like to try White Rabbit Beauty first because they are committed to selling only truly cruelty-free product brands.
*I am not sponsored nor did I receive compensation for mentioning this product. I purchased it with my own money and just wanted to share my experience.
Related articles across the web
2