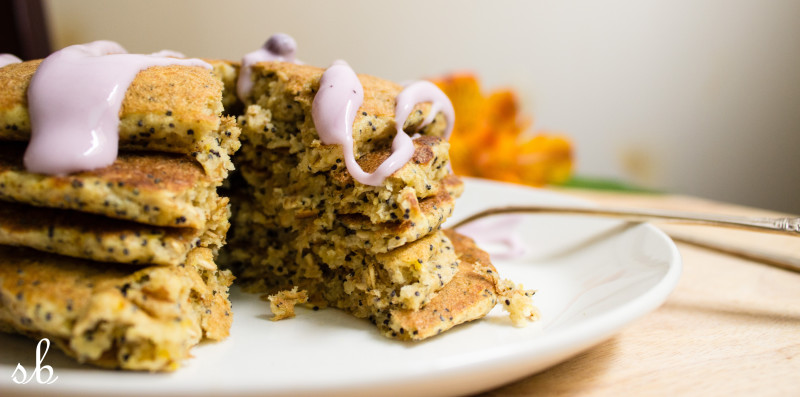 I was always more of a French toast kind of girl but after experimenting with making some healthy pancakes, I finally came up with a great base recipe that just may compete with the king of sweet brekkies. These oat pancakes are clean and healthy, providing a nutritious start to your day. I chose to share the lemon and poppy seed variation but you could flavor them any way you like (vanilla with hemp seeds, cinnamon and pumpkin pie spice, walnut and banana, cocao nibs and coconut….). With spring arriving, I thought something lemony-fresh was in order.
Lemon + Poppy Oat Cakes
½ cup oat flour* (you can grind your own by pulsing old fashion rolled oats in a blender)
½ cup rolled oats* (gluten-free if you need)
2 Tablespoons coconut or palm sugar or sweetener of choice (if using liquid, just reduce a bit of the almond milk)
1 teaspoon baking powder
½ teaspoon baking soda
1 Tablespoon poppy seeds
½ teaspoon lemon zest, fresh or dried
1 Tablespoon white vinegar
Scant pinch of sea salt
¾ cup unsweetened, vanilla almond milk (or any milk of choice)
1 teaspoon lemon extract
2 Tablespoons organic, cold-pressed, unrefined coconut oil
1 whole egg (use only the egg white, if you must. Don't fear the yolk!)
Yield: about 6 pancakes
Combine all the dry ingredients in a medium sized bowl.
Combine all the wet ingredients in a second medium size bowl.
Add wet ingredients to dry ingredients and mixed until just combined.
Let batter sit in the fridge for 15-30 minutes.
Heat a nonstick skillet over medium-low heat.
Spoon ¼ cup of batter into the dry skillet (the coconut oil already in the batter will prevent sticking).
After a few minutes, bubbles should start forming on the top of the pancakes. Time to flip.
After another minute or so, pancakes should be done!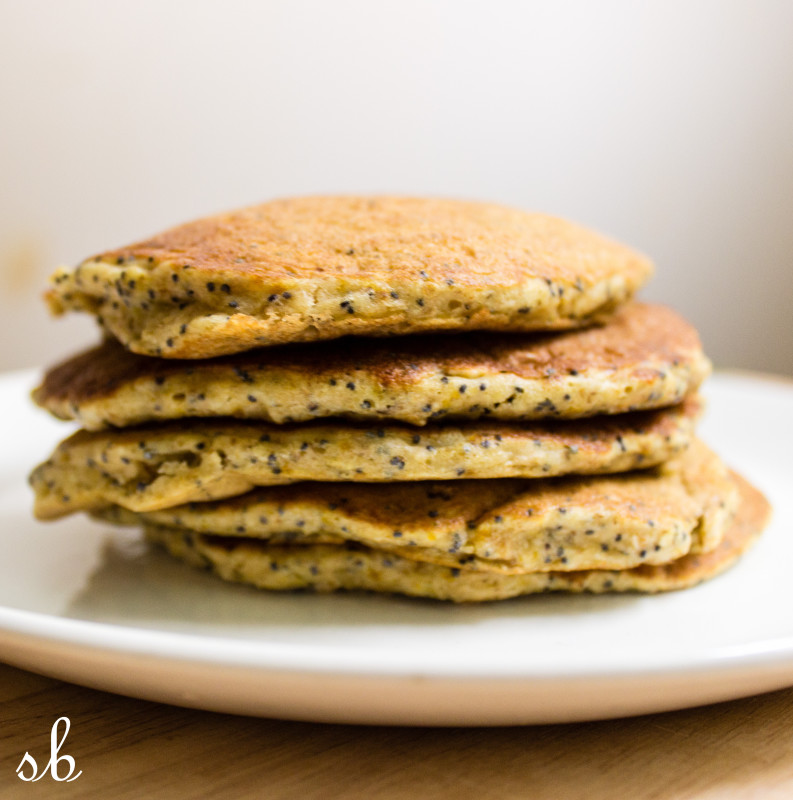 *Certified gluten-free oats can be used for those with Celiac. I have also used ½ quinoa flour and ½ rice flour in place of the oats and oat flour. Yum yum.
I like to drizzle these spring cakes with plain yogurt mixed with a bit of lemon juice and honey. Today, I added some mashed blueberries to the yogurt. I have also made these with vanilla extract and shmeared coconut manna all over them with slices of fresh mango. Helllooooo spring!
Renee
Related articles across the web
0