This turmeric beverage, also known as Vedic or Ayruvedic golden milk, has been used for over 4,000 years to reduce pain and improve overall health.  
Turmeric, a rhizome, contains curcumin which is a natural anti-inflammatory.  There's loads of information on the internet about the benefits of turmeric (I mentioned its benefits briefly here.).
Turmeric may be helpful in treating indigestion because of its ability to stimulate bile production (yummy).  This helps speed along the digestion process.  Turmeric has also been shown to be as effective as ibuprofen for treating pain, without the damaging side effects.   Past, present and preliminary studies have centered around turmeric's effect on cancer, heart disease, osteoarthritis, stomach ulcers, ulcerative colitis, uveitis (inflammation of the eye's iris) and bacterial and viral infections.  
It should be noted that in these studies, it is likely that the concentration of curcumin is significantly higher than what you get from a sprinkle of turmeric on your eggs. Here are some studies to get your started: 
Now, it should also be noted that your body's ability to metabolize and use turmeric is quite limited.  Curcumin has very poor bioavailability.  Noshing on roots of turmeric day in and day out really won't help you unless you take the necessary steps to help improve its absorption.  Fortunately, golden milk does just that!
Disclaimer: If you are taking blood thinners, it is best to avoid large amounts of turmeric because it can enhance the effects of these drugs.  Same goes for diabetes medications; turmeric is great at managing insulin levels on its own but if combined with medication, the risk of hypoglycemia increases.  Finally, turmeric can increase bile and stomach acid secretion, therefore don't combine turmeric with anti-acids or other heartburn and acid reflux medications. Click here for more.
Fat
Curcumin, the powerful healing component in turmeric, is not soluble in water but is in fat.  When combined with fat (either whole fat milk, or some flaxseed or coconut oil) it is believed that curcumin can more easily enter the lymphatic system and begin circulating throughout your body.  Without the fat, curcumin cannot be utilized by your body.
Black Pepper
Human studies have found that combining turmeric with black pepper extract (piperine) actually enhances the bioavailability of curcumin.  This is because the piperine in black pepper inhibits glucuronidation in the liver and lower GI tract.  Glucuronidation is a process that basically affects how well our bodies can metabolize drugs and other therapeutic substances.  When this process is inhibited, the bioavailability of the substance, in this case curcumin, increases. According to NutritionFacts.org, adding just 1/20th of a teaspoon of pepper to your turmeric can increase curcumin blood levels by 2,000%!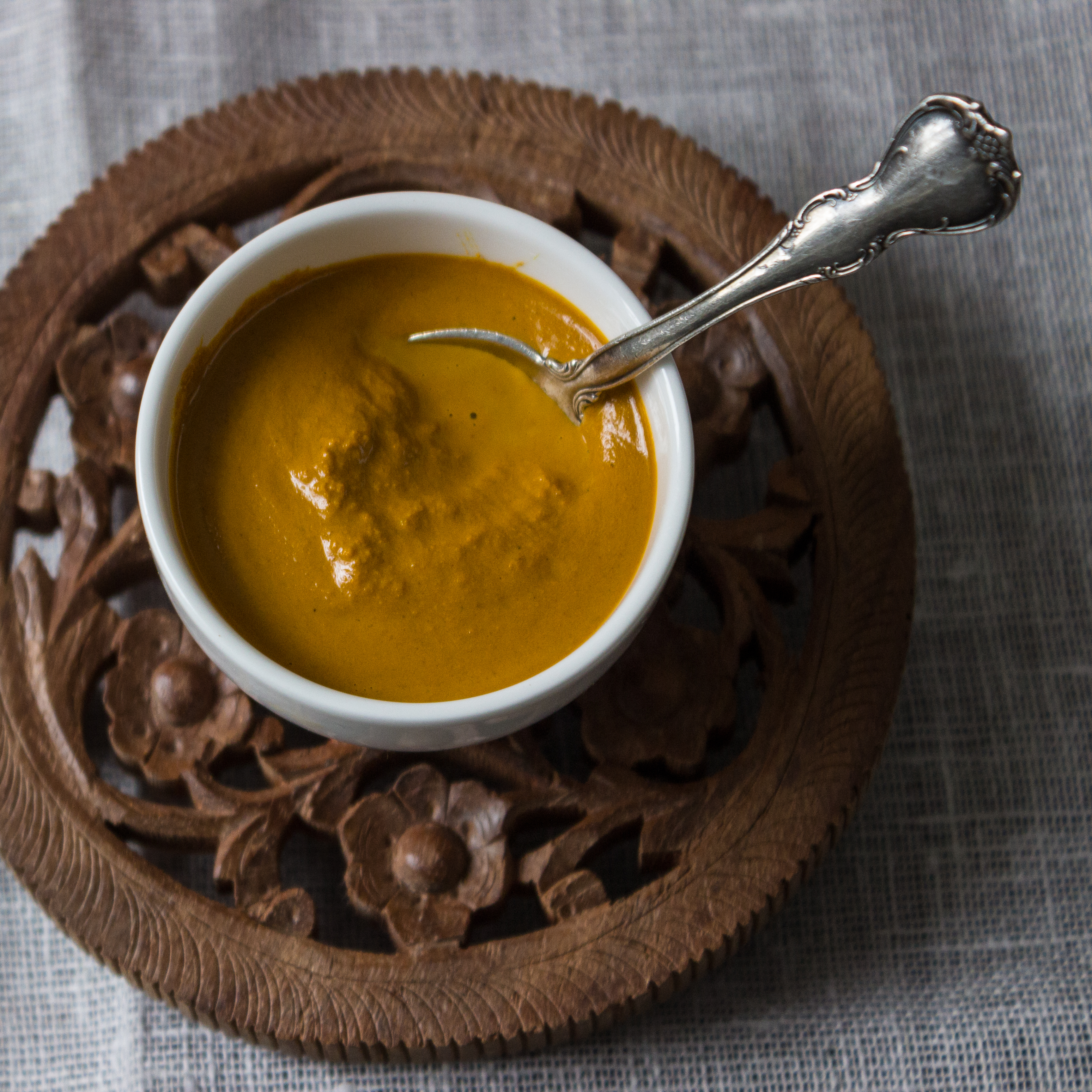 This is my go to recipe for when I can't find fresh turmeric root or ginger root. If you are lucky enough to have both, just add about a thumb size knob of each to a blender with all the other ingredients and whiz away!
In a glass air tight container, this turmeric paste will last 1-2 weeks in your fridge. Use ½ to 1 teaspoon to make golden milk. You can makes loads of golden milk from this one little jar of paste.
Ingredients
Turmeric Paste
¼ cup dried turmeric
½ cup distilled water
½ teaspoon black pepper
Golden Milk
8 ounces milk of choice (plant or dairy based; I use unsweetened cashew milk)
½ to 1 teaspoon turmeric paste
½ to 1 teaspoon of coconut oil, flaxseed oil, or ghee
Honey to taste
Optional: a hefty pinch of dried ginger and some cinnamon
Instructions
Turmeric Paste
In a small sauce-pan over medium high heat, bring turmeric powder and water to a simmer.
Stir constantly for about 5 to 7 minutes or until a thick paste begins to form. You may need to turn down your heat a bit as you do not want to burn the turmeric,
Add black pepper and transfer to an air tight, glass container.
Golden Milk
In a small sauce pan, add ½ to 1 teaspoon of your turmeric paste to the milk and stir. Add the rest of the ingredients and heat just until fragrant, not boiling.
Enjoy.
 I like to drink my turmeric milk before bed because there is just something about it that is super soothing.  I find it also helps with those body aches that come along with cold weather. 
For another yummy beverage, check out my easy peasy homeade chai latte recipe over at Greatist!
Drink up!
 Xx Renee
University of Maryland: Turmeric  http://umm.edu/health/medical/altmed/herb/turmeric
University of Maryland: Possible Interactions with: Turmeric http://umm.edu/health/medical/altmed/herb-interaction/possible-interactions-with-turmeric
Related articles across the web
1