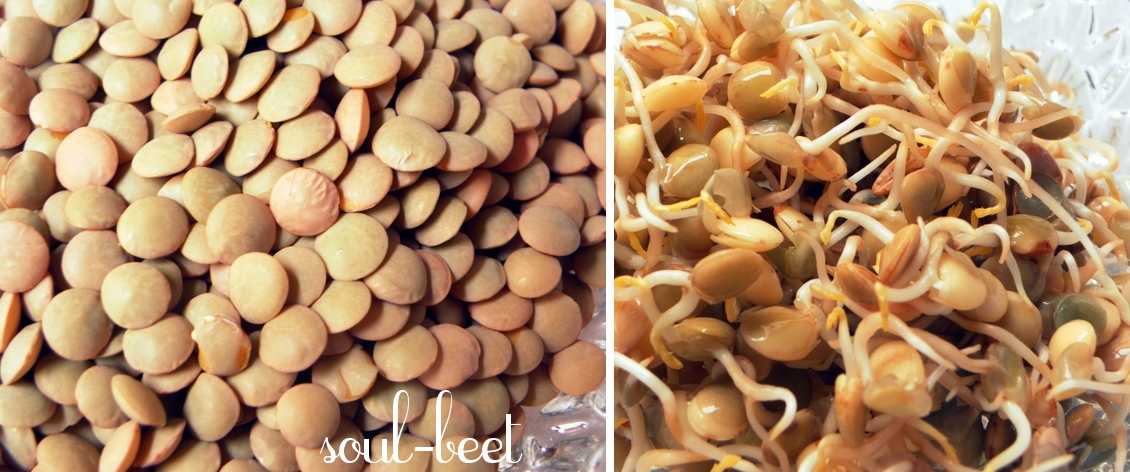 Sprouts are wee squiggles that pack a powerful punch. Is is odd that I get pumped to check my sprouts each morning, to see how far along they are? As soon as those little tails emerge…yesssssssss…grow, baby, grow! Seriously though, gardening and growing plants (successfully) has been hard for me to master. My basil and rosemary plants are kickin', and the gorgeous orchids my husband surprised me with are still blooming (wooooo!), but I have a poor track record at keeping plants and flowers alive. I am learning. If I can cultivate my own sprouts, anyone can.
Why sprout? Well, we know that legumes, seeds, nuts and other grains are awesome for our insides, but sometimes our bodies have a difficult time un-packaging those fabulous nutrients. When sprouting, seeds, legumes, and nuts are preparing to become flourishing full-sized plants. To grow, they need more nutrients. Studies have shown that sprouts contain up to 15% more vitamins and minerals than the original, un-sprouted seed. Sprouts are high in vitamins A,B,C, and E and minerals such as manganese, phosphorus, calcium, niacin, iron and other amino acids for building protein. Nature has provided seeds and legumes with powerful enzymes to further encourage the sprouting process. Because an enzymatic process has begun, the nutrients sprouts contain become much more easily assimilated through the human metabolic process. Sprouts have the trifecta; nutrient dense, easily digested, and delicious. Sprouted lentils can be eaten raw, whereas the original form is more like a hard pebble. You can also cook the sprouts, if you wish. (Paleo pals, you may avoid lentils because you believe them to be antinutrients due to their phytic acid, but good news! Sprouting takes care of this acid and many believe the sprouts to be paleo-friendly, it's up to you.)
If you are interested in DIY sprouting, check out the folks over at Sprout People. They have everything you need to know about sprouting and you can even purchase seeds and supplies. They have been in this budding biz for over 20 years so it is safe to say, they know their stuff. I used the simple mason jar method (all you need is a jar and cheesecloth/screen). Because they are the experts, I will leave it to them to walk you through the sprouting process, step by step.
This wrap recipe I came up with is completely adaptable and can be modified to your personal tastes. Every ingredient is a nourishing powerhouse and thanks to all the fiber, these are filling and oh so satisfying.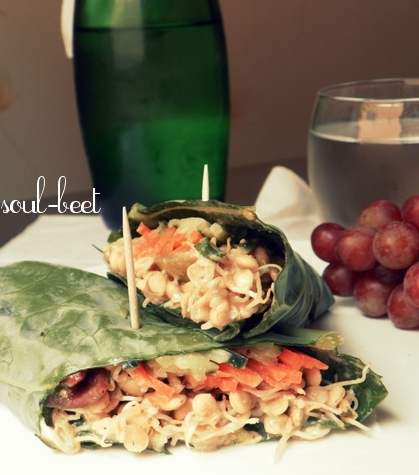 Vegan Sprouted Lentil Wraps
2 large chard leaves

1-2 cups sprouted green lentils (or any sprouts you fancy)
1/2 large carrot, julienne
1/2 medium cucumber, julienne
1 scallion, chopped (white and green parts)
5-10 cherry tomatoes, halved
2-3 Tablespoons shelled hemp seeds
Dressing
2 Tablespoons raw tahini

2 Tablespoons red wine vinegar or apple cider vinegar (raw)
1/4 teaspoon garlic powder or crushed fresh garlic
drizzle of olive oil to emulsify
salt and pepper to taste
Yield: 2 wraps
Optional
avocado

ginger
substitute sesame oil, rice wine vinegar, sesame seeds, and low sodium soy sauce for an Asian twist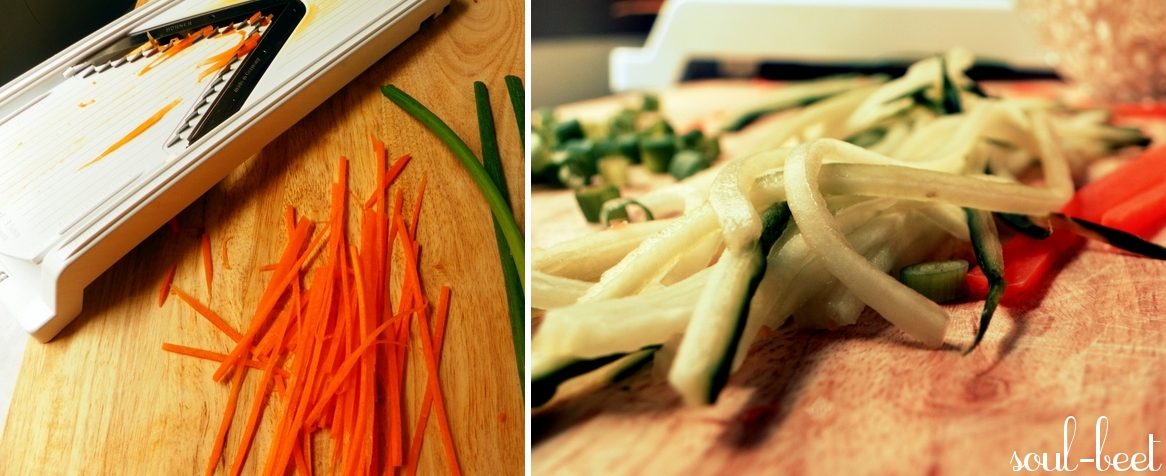 Prep all veggies, beginning with a thorough wash. I used my mandolin for the cucumbers and carrots (carefully, of course). If you do not have a mandolin, no worries. Simply chop the carrots and cucumbers into thin matchsticks.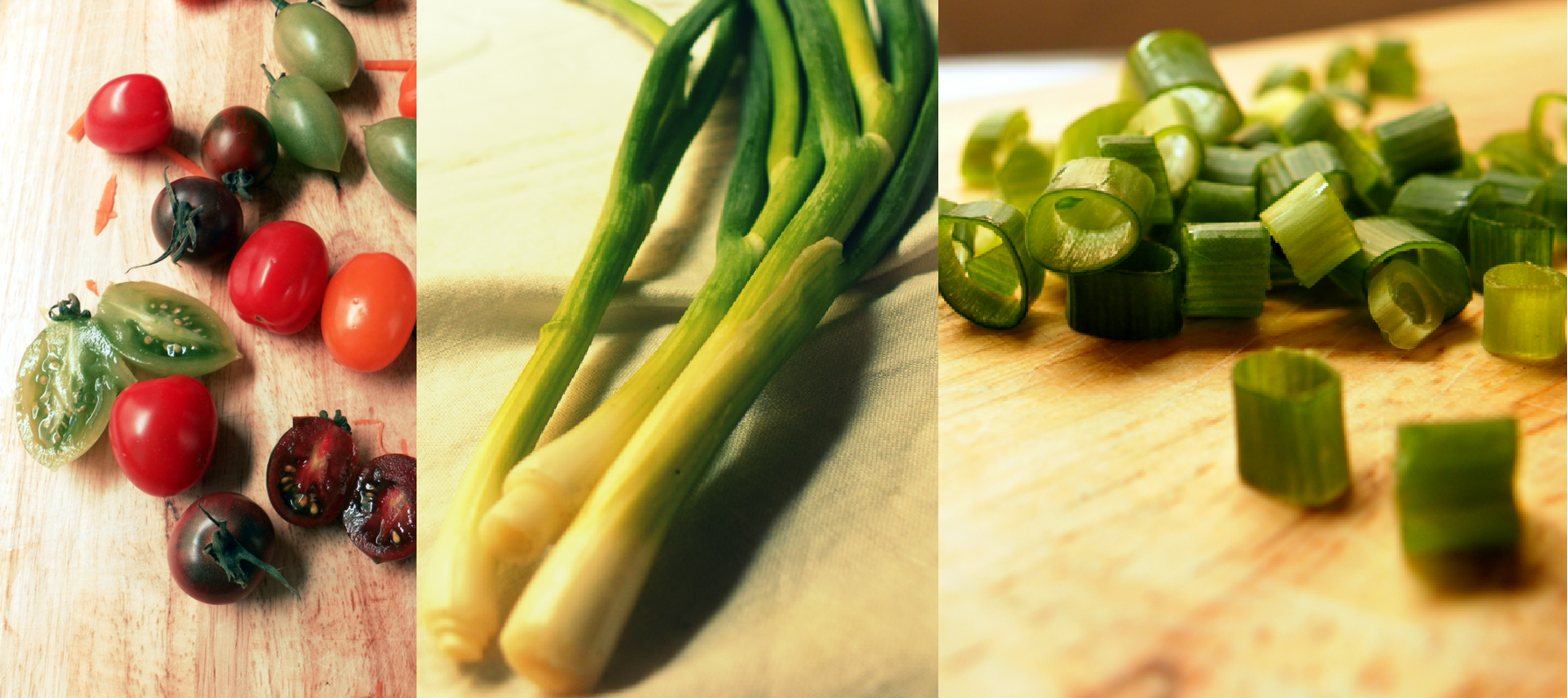 I got these beautiful little tomatoes from a local Korean market. Each color has a subtly different taste. Almost too pretty to eat, almost.
Whisk together all the dressing ingredients, except the olive oil, in a small bowl. You can make any adjustments here to your preferences. Don't care for tahini? Try some Dijon mustard. Take an Asian route with some of the suggested substitutes I made above. Once everything is incorporated, slowly drizzle in the olive oil, while still whisking. This will allow the dressing to emulsify. When it looks creamy, you are there.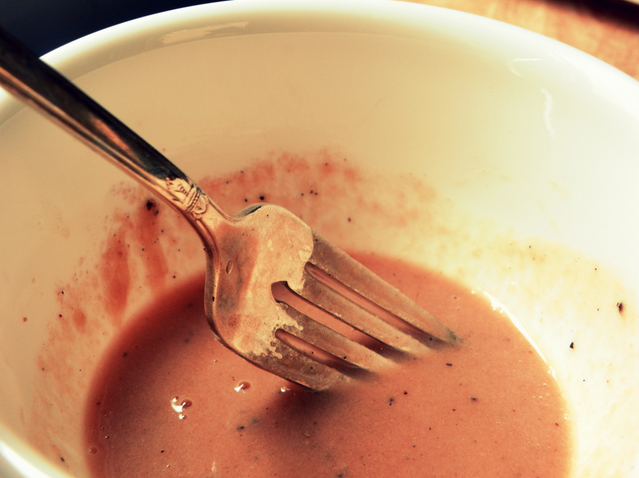 Lay the chard leaf face up and flat in front of you and break off the stem end. Stack the prepared veggies in the middle. Begin with the carrot matchsticks, then cucumbers, tomatoes, and sprouts. Drizzle about a Tablespoon or so of dressing over the sprouts and top with the chopped scallions. Finally, sprinkle with hemp seeds (hemp seeds deserve a post of their own, stay tuned!)
To wrap, begin at the bottom and fold up about a third of the way. Then fold in the left and right sides and then finishing rolling away from you, like a burrito or spring roll.

Cut diagonally, stick a toothpick in and have at it! These wraps are raw, vegan, gluten-free, and possibly paleo! Score. If you are packing this for lunch, leave the dressing on the side and use it as a dipping sauce.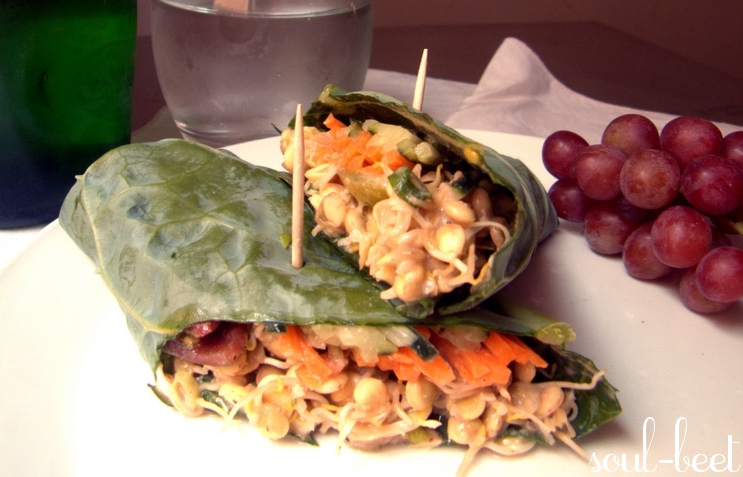 Happy chomping.
Related articles across the web
1