Easy Apple Hand Pies with a Maple Glaze// Healthy Dessert
Healthy dessert?  Sounds suspect.  These easy apple hand pies are suspect, then.  Actually, these little pocket pies are a fantastic alternative to the beloved, buttery fruit pies.  I came up with these while I was destroying the dabbling in kitchen a few days ago.  I was feeling festive but didn't want to make the traditional gingerbread cookie we associate with this time of year. 
In truth, I've been a little delayed on joining the holiday-themed dessert bandwagon because I feel like everyone is sharing their favorite sugar cookie-gingerbread-macaroon-molasses-peppermint brownie-egg nog family tradition recipes.  Not that there is anything wrong with that, I just wanted to do something different.  Shelly from Vegetarian Ventures shares my feelings of , dare I say, boredom, with the basic Betty Crocker renditions.  Just like any family/holiday gathering, to make things a little more amusing, add a bottle of booze.  Shelly found inspiration to create and share with us her Brownie Cookies with Rum Sugar. We all need a little naughty in our life.
Following Shelly's lead, I sat down and thought about my favorite holiday dessert; pie. Slap a flaky crust onto anything that remotely resembles a pie filling and I'm yours.  Problem is, every time I eat pie, I get wicked heartburn and feel like poo'.  Then I crash.  And have another piece.
Making pie crust is a skill that everyone has their own opinion about.  Some add vinegar, others swear by  lard, "don't overwork it" they all say.  Well, I wanted to make a crust that was a bit healthier than the all-butter favorite, without lacking any flavor or flake.  I will admit, I may be stretching it calling this recipe "healthy."  You still need to enjoy in moderation because it is high in fat.  However, the key was replacing some of the cholesterol-heavy butter fat with heart-healthy unsaturated fat.  In this case, olive oil (baking helps neutralize the flavor).   This forced me to change-up the technique a little bit- instead of only cutting in hard chunks of cold butter, I had to find a way to incorporate oil.  See the notes in the easy apple hand pie recipe below.   Sometimes, using oil in place of butter (or shortening or lard) will result in a tough, flake-less crust but I think I have found a way to get the desired result.  Now, this pie crust isn't vegan- I had to use some grass-fed butter for flavor.  If you are feeling sporty, you could try using cold coconut oil instead, though I found the coconut flavor to be overpowering.  Ultimately, pie crust just isn't pie crust without fat.  No way to get around it.  
I could have made a traditional pie but in an effort to observe portion control, I decided to make these super forgiving, super easy apple hand pies instead.  The idea is to stick to one or two for dessert, but just like I'm not there to stop you from eating a whole pie, I can't hold you back from devouring the whole lot of pocket pies, either. 
This recipe doesn't contain any refined sugar.  I used organic maple syrup for just the right amount of sweetness.  The key is to choose a filling that is naturally sweet and won't require anything else.  In this case, I used sweet fuji apples paired with d'anjou pears.  Cinnamon may seem like the obvious choice for flavor enhancement but I swapped it out for a dash of dried ginger for a more unique spin.  But by all means, use cinnamon if you like!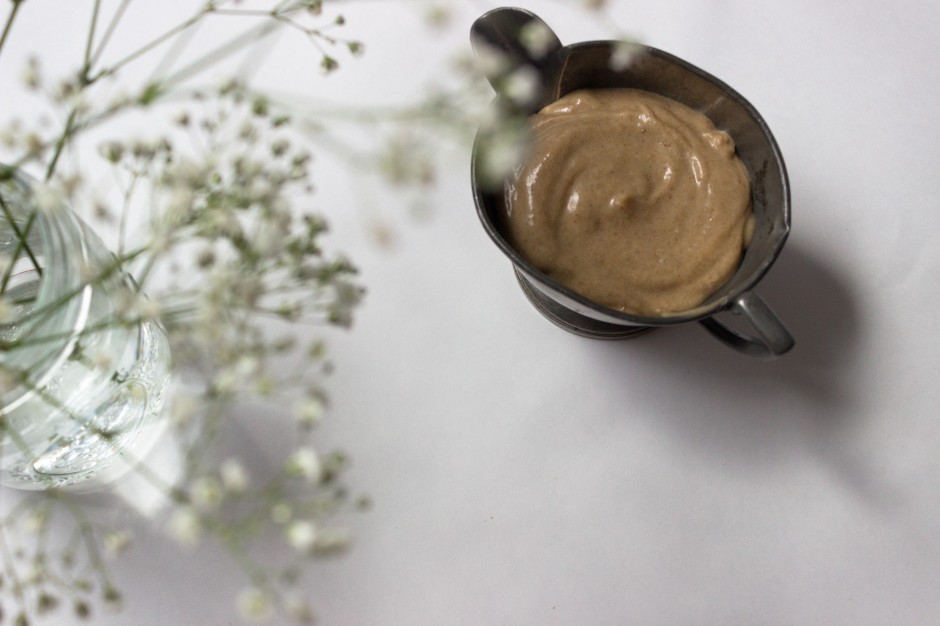 I haven't even gotten to the best part.  The maple glaze, which happens to be vegan and free of refined sugar.  I'm a dunker, but if you want to be more refined, you could slather delicately drizzle the glaze over the hand pies once they have cooled.  
Easy Apple Hand Pies with a Maple Glaze
Serves: 12 mini hand pies
A "healthy" dessert.
Ingredients
Pie Crust Dough
1 cup spelt flour
1 cup whole wheat pastry flour
6 Tablespoons cold, organic, unsalted, grass-fed butter, cut into cubes
6 Tablespoons olive oil, chilled in freezer up to an hour
2-3 Tablespoons organic maple syrup (depending on how sweet you want your crust)
2-4 Tablespoons ice water
1 finger-pinch of salt
Filling
1 medium sweet apple (fuji, ambrosia, gala, honeycrisp, braeburn)
1 medium sweet, not overly ripe, pear (d'angou, bosch, comice, seckel, starkrimson- bartlett can be too mushy)
½ teaspoon dried ginger
1 teaspoon tapioca flour
Maple Glaze
6 large, pitted dates (I used medjool)
4 Tablespoons full fat canned/boxed coconut milk
1 teaspoon vanilla extract
1 Tablespoon coconut oil
1 finger-pinch of salt
Warm water, as needed for consistency
Instructions
Pre-heat oven 375°F or 190°C
Pie Crust Dough
In a large bowl, combine spelt flour, whole wheat pastry flour, and salt.
In a medium bowl, briskly whisk together chilled olive oil, maple syrup, and 2 Tablespoons cold water.
Add cold, cubed butter to flour and use a fork to incorporate. Texture will be crumbly. Alternatively, pulse a few times in a food processor.
Add oil and maple syrup mix to flour and combine until it just comes together, either using a fork or food processor. You want the dough rough with visible chunks of butter. Add more water by Tablespoon as needed. This dough will be a little more moist than traditional dough but still be sure to NOT OVERWORK IT!
Form dough into a ball and flatten into a disk. Wrap with plastic wrap and chill in the fridge.
Filling
Coarsely grate apple and pear either on a box grater or in a food processor with the proper fitted disk.
Sprinkle with ginger and tapioca flour and stir to combine. If your filling is super juicy, either pour off some of the juice and drink it-or-soak it up with some paper towels. The tapioca flour should help. Add a splash of lemon juice to avoid discoloration while you roll out the dough.
Method
Place chilled dough on a clean, dry, floured surface, and cover with a piece of parchment paper.
With the parchment between the dough and the floured rolling pin, roll out dough as evenly as possible to ⅛ inch thick.
Check frequently to see if the dough is sticking to your work surface or parchment. Add flour as necessary.
Using a biscuit cutter, or large mason jar lid as I did (all I had..), cut as many circles as you can.
Pardon my stone-cold pasty pastry hands
Gather scraps, roll out again, and cut more circles.
You don't want to gather the scraps more than one or two times as the dough will become tough.
In the center of each dough circle, place about 1 Tablespoon of filling with about a ½ inch perimeter.
Fold dough over filling. Because the filling is moist already, you will not need to add any additional water to the edges to form a seal.
Crimp edges with a fork. Repeat for all 12 hand pies.
Place hand pies on a parchment lined backing sheet.
Puncture 2-3 little slits in pies to allow steam to escape.
Optional-brush with egg wash (just a whisked egg). I like the golden color and sheen from the egg wash.
Bake for 30-40 minutes, checking every 15 and rotating as needed. The apple hand pies are done when slightly golden.
Maple Glaze
Combine all ingredients in a high speed blender or food processor.
Drizzle in warm water as needed to thin out consistency.
Now, gleefully dunk your homemade, super easy apple hand pies into your glorious glaze. You deserve it.
Notes
It is important that the olive oil be chilled in order to produce a flaky crust. Whisking together all the wet ingredients, prior to incorporating into the flour, is essential.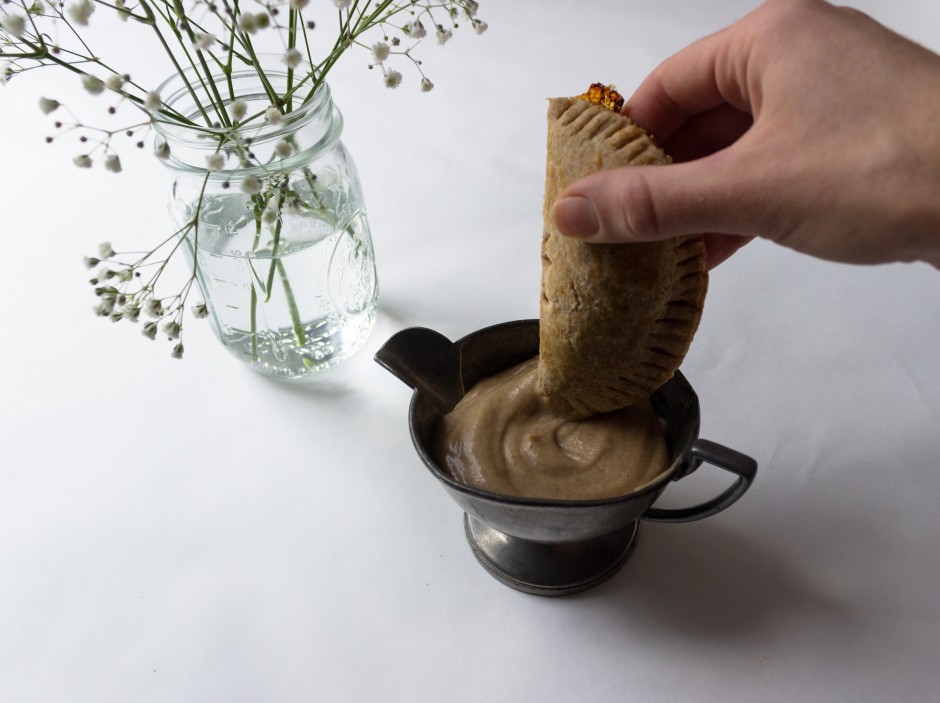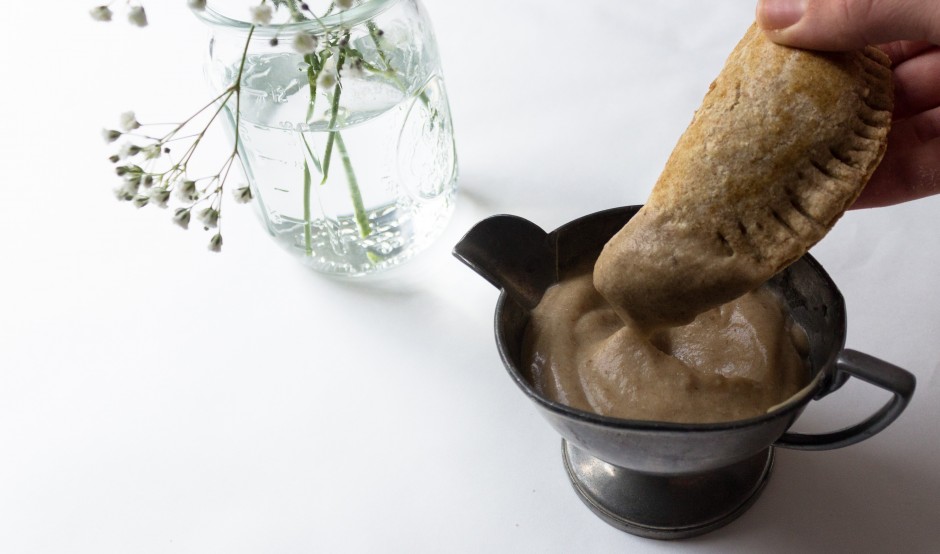 If you follow me on Instagram or Twitter, you might have seen me mentioning slapping your grandma. These easy apple hand pies are just that good.  Though, no grannies were harmed during the pie-making process. 
I love the combination of sweet apple, pear, and ginger in these pies but you could try berries, peach, rhubarb, whatever!  I also love that these petite hand pies are super sloppy, or as I like to say, rustic, looking.  The gooey crisp left on the edges as the juice oozes out during the baking process is like an accidental isomalt tuile that tastes 10 times better. 
May you never dream about those Hostess Fruit Pies again (the crusty icing was always stale anyways). 
One more thing.  You may have noticed that I now have a Yummly button on all my recipes.  My publisher's page  for Yummly is up and running I would love for you to "Yum" my recipes if you dig 'em.  You can also find me on Food52! 
Love and light,
Renee
0