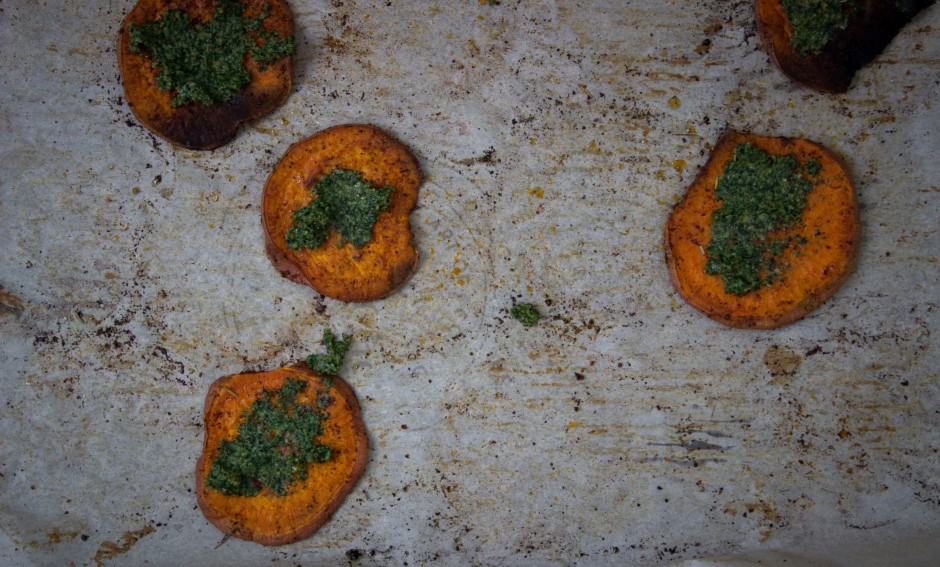 Roasted Sweet Potato with Kale + Walnut Pesto// Winter Comfort
I really do not like cold weather. If I could, I would migrate south for the winter and skip the whole thing. Snow is beautiful, yes, and back in Colorado it was. But when you live in an urban environment, snow is a real pain in the butt. It's nice when fresh and fluffy but within a day, it becomes a grey, muddy, slush that splatters and sticks. to. everything. And then freezes into something resembling an indoor rock wall.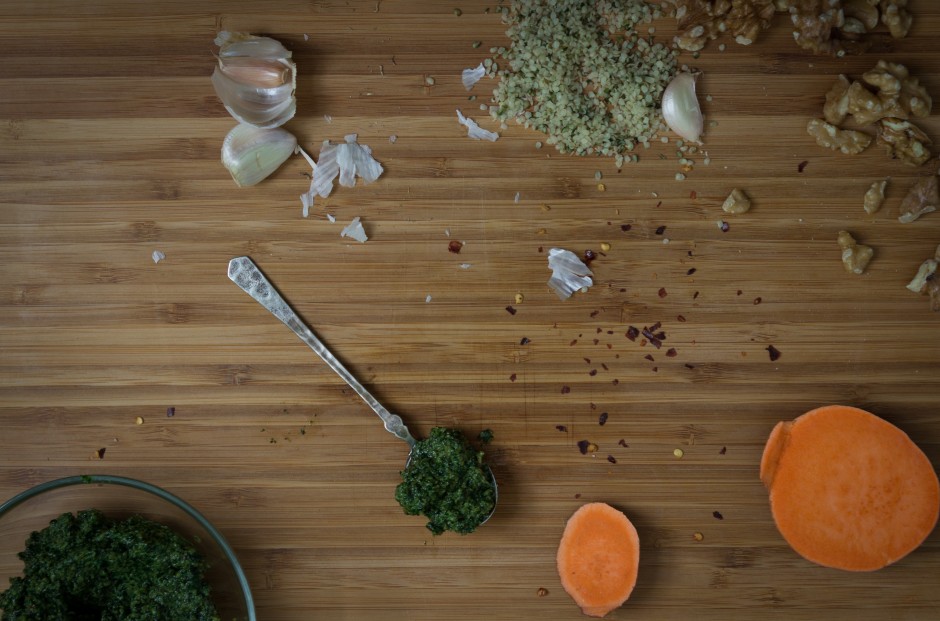 I can't escape the reality of winter so I find comfort in the kitchen. I don't mean binge-ing the winter blues into oblivion; I mean making warm, hearty, nourishing meals that fill, and warm, me up. Instead of cursing the cold, I use this opportunity to roast, bake, toast, broil, and boil winter's minimal (but hearty) bounty.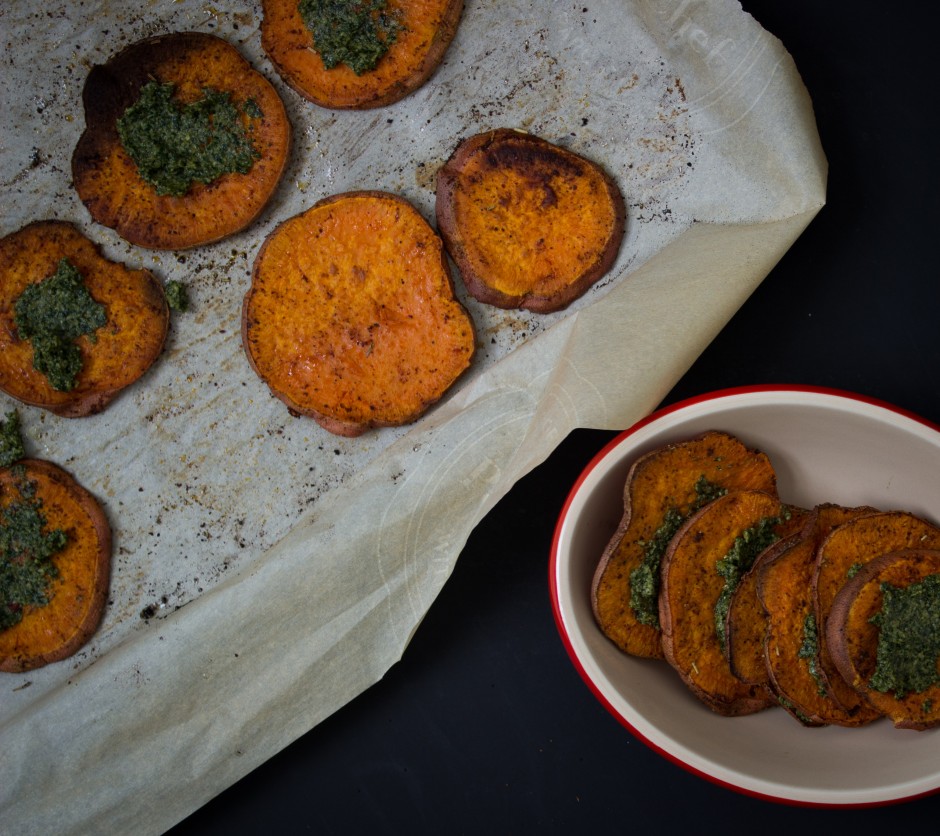 One particular tuber gets some special attention, the sweet potato (or yam). These nutrient-dense spuds have made their way into my breakfasts, lunches, dinners, and desserts.  Salute the spud, my friend, for it will never let you down.
Like many of you, this time of year I am trying to be as frugal as possible. Holiday expenses always leave the piggy bank a little lean. It can be a challenge when you are trying to eat well, especially when just-add-water ramen noodles look so tempting and are always dirt cheap. This is why I ALWAYS have sweet potatoes on hand.  They are nourishing, filling, and cheap. They are also starchy; during the colder months, this isn't necessarily a bad thing. Instead of reaching for the typical comfort foods (mac and cheese, baked ziti, sour cream mashed potatoes…), reach for the humble yam.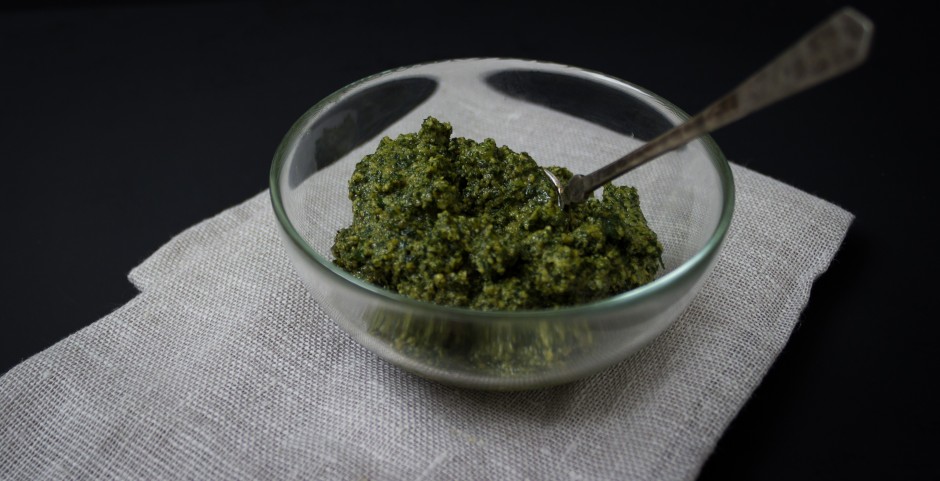 Real, homemade pesto is a wonderful thing. So beautifully simple, you can modify it to meet your tastes. I had kale on hand so I decided to tweak the traditional basil and pine nut variety. In line with being thrifty, I also used walnuts and hemp seeds instead of pricey pine nuts.  I made a decent sized batch as it keeps well in the fridge. Here I shmeared it on my sweet potatoes, but it's fantastic on crusty bread, zucchini noodles, spaghetti squash, sandwiches, pizza, with buratta….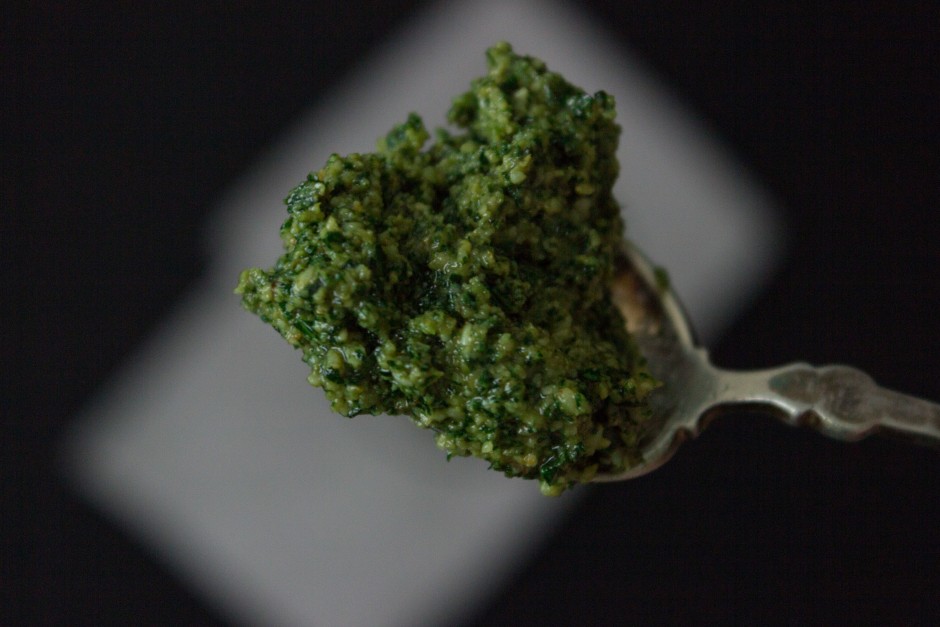 If you are looking for something hearty, comforting, and delicious, this is for you. 
Roasted Sweet Potato with Kale + Walnut Pesto
Prep time:
Cook time:
Total time: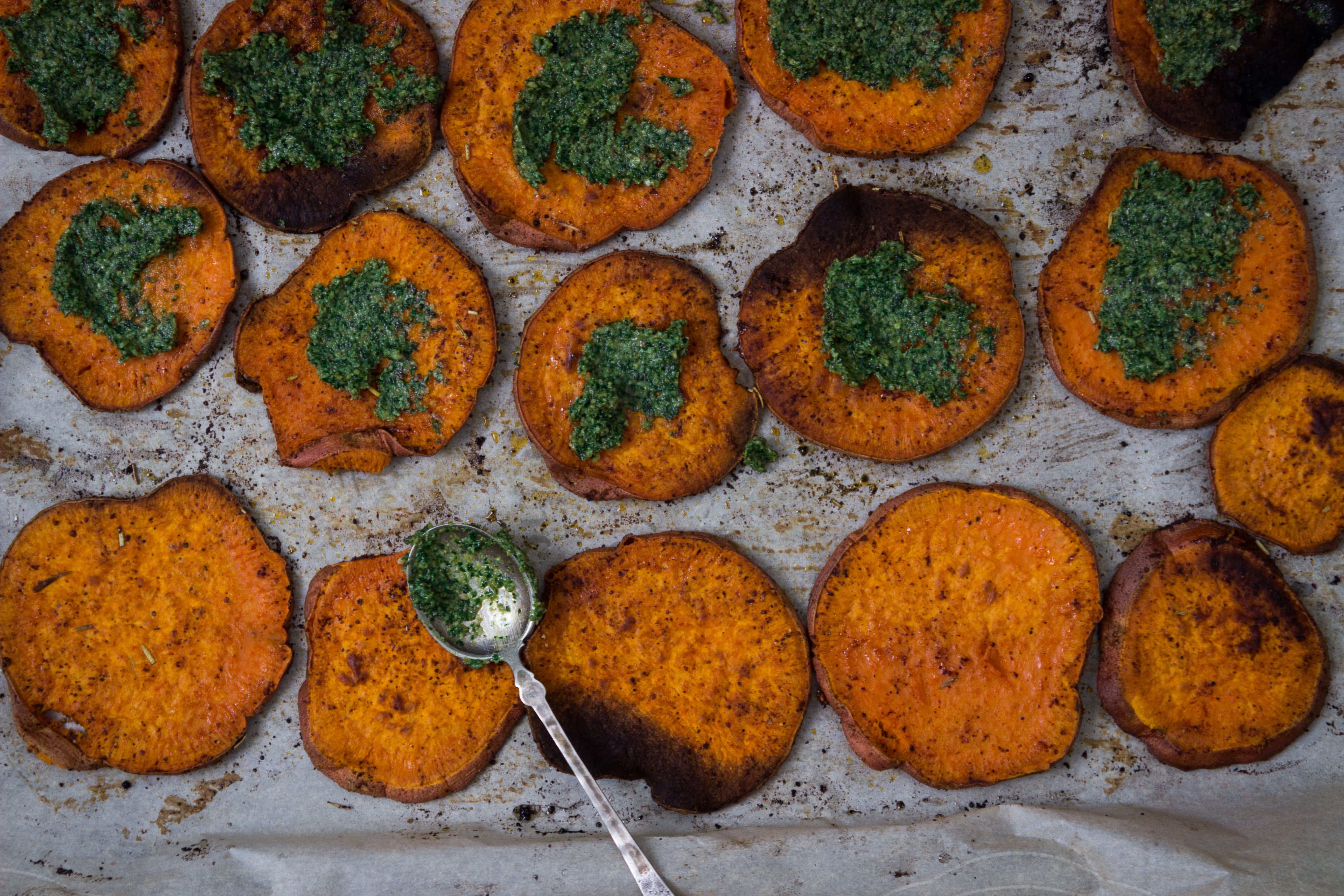 Ingredients
Pesto
1 medium bunch of kale (I used curly, but any variety will work)
¼-1/2 cup raw hemp seeds
¼ cup walnuts
1-2 large garlic cloves
Juice of 1 lemon or 1 Tablespoon apple cider vinegar
2 finger pinch of fine sea salt
1 finger pinch of freshly found pepper
¼ cup extra virgin olive oil
Optional: 2-4 Tablespoons nutritional yeast
Roasted Sweet Potato
1-2 large organic garnet or jewel yams/ sweet potatoes
1-2 finger pinches of the following:
Paprika
Chili powder
Garlic powder
Freshly ground pepper
Sea salt
Hefty drizzle of extra virgin olive oil
Instructions
In a small food processor, pulse raw garlic cloves into a paste.
Add remaining ingredients, except for olive oil, and pulse.
While the food processor is running, slowly add olive oil until the desired consistency is achieved. (Use more or less oil, as needed).
Taste and add more seasoning, if needed.
Preheat oven to 400°F (200°C).
Slice scrubbed sweet potatoes into even rounds, about ¼ inch thick.
Arrange in single layer on parchment-lined sheet pan and drizzle with olive oil.
Sprinkle slices with seasonings and flip to evenly distribute.
Place on middle rack and bake for 30 minutes.
After 30 minutes, flip the potatoes and bake for another 20-30 minutes (I like 'em crispy and a little burnt)
While still warm, add a bit of pesto and voila!
Notes
Leave the peel if you are using organic but if you aren't using organic, go ahead a peel the tubers.
I ended up having to use two sweet potatoes the second time around.  One tater just isn't enough.  Seriously, these are addicting.  
Love and light,
Renee
Related articles across the web
0