Cauli-rice, it's all the rage…
This was one of those "see what happens" type of fluke recipes.  I've made loads of cauliflower and broccoli rice in the past but it was always the Robin to the main event.  Today, I wanted to elevate this humble side dish and give it a chance to stand on its own.  
Replacing white rice with pulverized cauliflower is basically genius.  White rice, while a staple in the East, is stripped of nearly all nutrients and only provides us with simple starches that can add to our waistline, if we aren't careful.
I didn't really appreciate rice until I lived in Asia. Rice serves a purpose as a blank canvas for many Indian dishes as well.  It's use spans across the globe – Mexico has their beans and rice, Spain has paella. While I typically steer clear of white rice (blood sugar…) I sometimes use brown rice but lately I've been enjoying the cruciferous variety. 

Cauliflower is pretty boring so I made sure to amp up the spices; turmeric, cinnamon, and a dash of cardamom.  Add some pepitas or garbanzo beans and this dish can easily become a main course.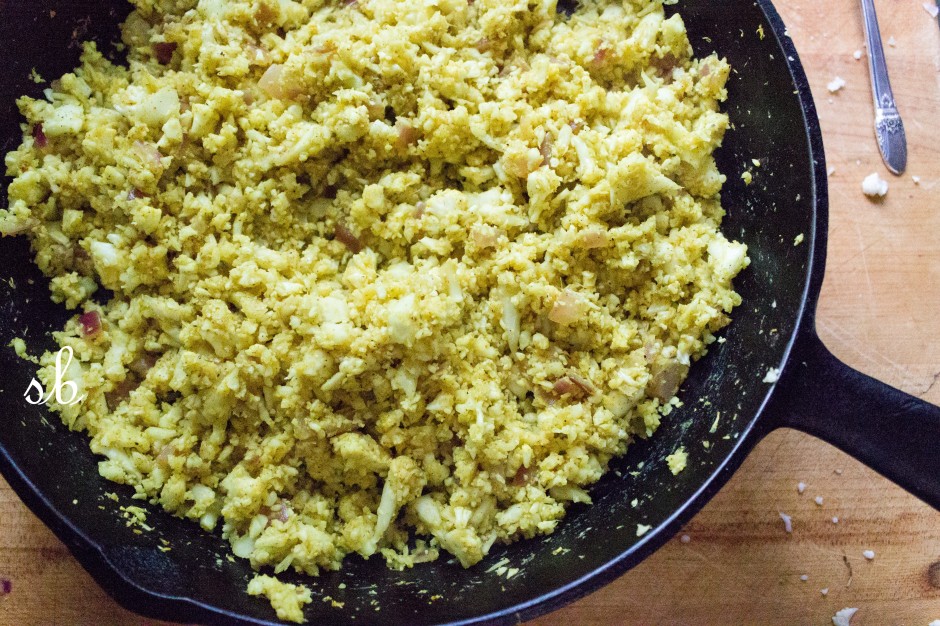 Cauliflower Rice with Turmeric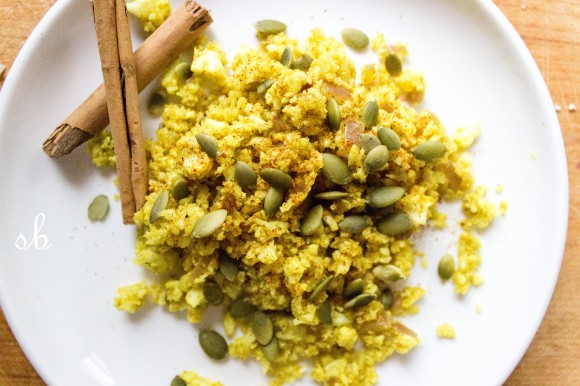 Ingredients
1 large organic cauliflower head
1-2 teaspoons coconut oil
1 small red onion, diced
1-2 large garlic cloves, diced
½ teaspoon turmeric
½ teaspoon cinnamon
¼ teaspoon cardamom
Salt and pepper to taste
Pepitas
Cayenne pepper
Instructions
Add coconut oil in a skillet over medium heat.
Add diced onion and garlic. Cook until translucent, just short of caramelized (3-6 minutes).
Wash and thoroughly dry cauliflower. Remove outer leaves and stem.
Chunk the cauliflower and then pulse in a food processor or blender until crumbly and rice-like.
Add cauliflower to skillet with seasonings.
Stir well and cook until cauliflower is heated through, about 5 minutes.
Plate and top with some pepitas and a sprinkle of cayenne.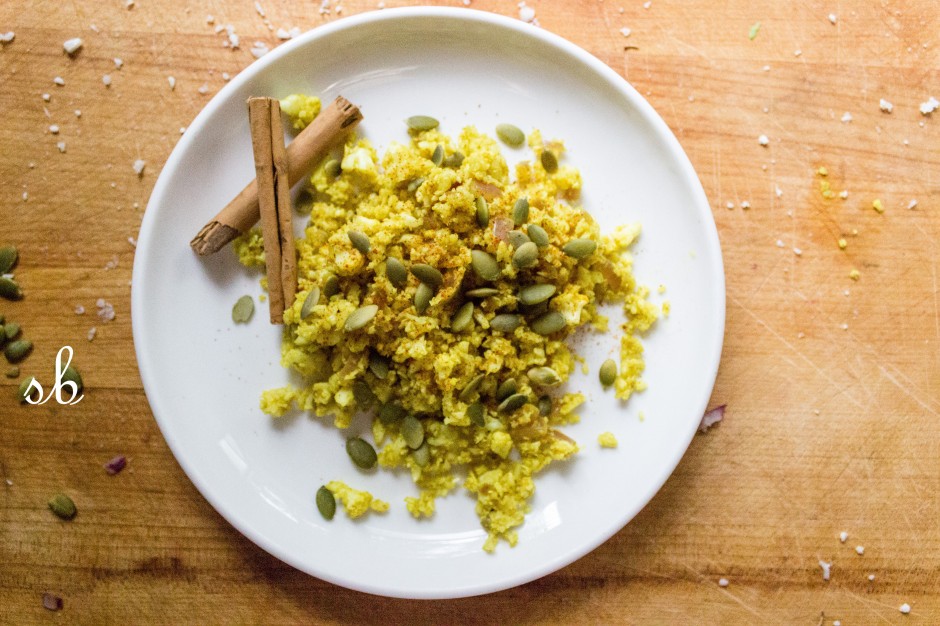 Have some fun with spices, try adding ginger or cumin!  You can't go wrong, really.
0