Guilt free gratin…
As summer comes to an end in the Northern hemisphere, we may find ourselves scavenging for recipes that will use up the rest of summer's bounty. Especially zucchini.  Anyone who has a garden knows that zucchini is a greedy thing and wants to take over the entire patch.  When it comes to figuring out what to do with the surplus squash, we often think of zucchini bread, stir fries, fritters, giving it to the neighbors….
 I do not have a garden currently but I did manage to easily acquire a few of the bulbous courgettes and decided to try something a little different.  To my delight, it came out surprisingly good and was well received by those in my household.  I made zucchini au gratin.  While the term "gratin" usually eludes to some sort of cheese, egg, and butter custard, I managed to make a vegan version (though I do love cheese).
Now, I'm sure we have all had one of those boxed scalloped potato/potato au gratin casseroles at some holiday.  I don't know about you but the wallpaper paste consistency and bland flavor left me jaded and swearing off the mush for eternity.  BUT if you have had a real, made-from-scratch-by-a-Frenchman potato au gratin, then you can appreciate the culinary genius of such a homely looking dish.
Oddly enough, it was in Seoul where I was re-introduced to the casserole of Christmas past.  It was at a little gastropub called Brew 3.14 in the Jongno district of the city. It was a 2-man-band kind of place; only having a chef (who was French), and a boss of sorts. We got to watch the chef make the gratin from scratch as we sipped on the first quality beers we had encountered in Korea. It was such a funny little place and so. damn. good.
Inspired by our new French friend, I decided to commit a culinary sacrilege by making a lighter and healthier version of potatoes au gratin.  Possible?  I didn't think so but this little creation left me pleasantly surprised.
Unlike the traditional sliced white potatoes used in a gratin (or scalloped potatoes) squash has a very low glycemic index, meaning it won't spike your blood sugar.  It can be sliced in a similar way making for easy assembly.  The real star, though, is the béchamel. The rich, white, creamy , cheesy, buttery goodness of a classic béchamel is hard to replicate but I think I got pretty close.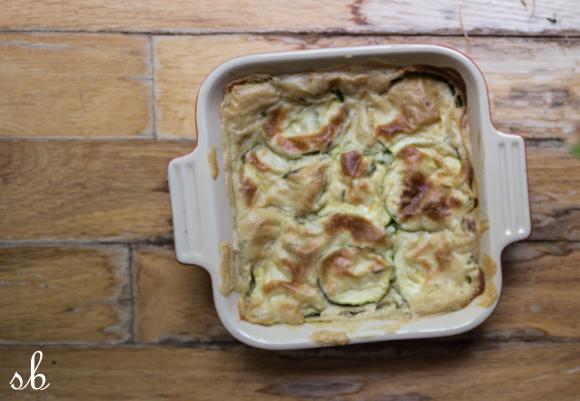 Summer Squash and Zucchini au "gratin"
Summer Squash and Zucchini au "gratin"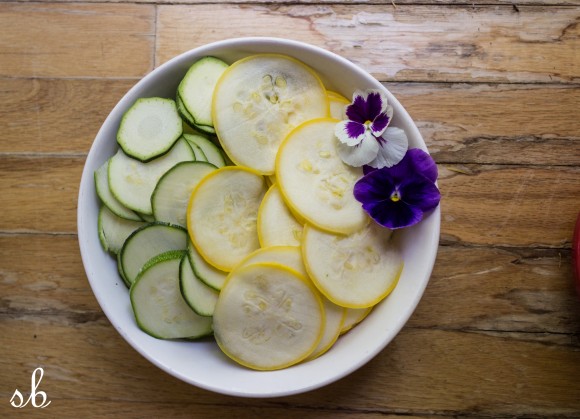 Ingredients
2-3 medium zucchini and/or summer squash, sliced into rounds (organic!)
¼ cup finely sliced red onion
1.5 cups raw cashews, soaked overnight
1 cups unsweetened, plain flax/almond/etc. milk (or cow's, if it does not matter to you)
1 bay leaf (optional)
3 fresh parsley sprigs
3 fresh thyme sprigs
1 smashed garlic clove
Sea salt and white pepper (or black pepper)
Fresh nutmeg
⅕ teaspoon curry powder (optional but really rounds out the flavor)
Yield: 6-8 servings or one 8x8 baking dish
Instructions
Preheat oven 350F
Wash and thinly slice squash and red onion. I used a mandolin.
Blend the soaked cashews in a blender with a little of the soaking water until it becomes creamy.
Stack the bay leaf, parsley, and thyme sprigs together to make a bundle and tie with a bit of butchers twine.
In a small sauce pan over medium heat, heat the milk with the garlic and herb aromatics (the bundle).
Allow to gently warm for about 5 minutes. Then add the blended cashew cream*.
Stirring occasionally, allow to barely simmer for 15 minutes.
Remove the aromatics and season with salt, white pepper, ground nutmeg, and curry powder (if using).
In an empty 8x8 ungreased baking dish, add a few tablespoons of the béchamel.
Create a layer of squash rounds with a bit of onion. Add about ⅓ cup of béchamel. Continue alternating squash with the béchamel until you reach the top of the dish. Make sure you have enough béchamel left to cover the top!
Bake on the middle rack for 45 minutes to 1 hour or until the top becomes a nice golden brown.
Remove and let cool.
Notes
You can make the sauce thicker with more blended cashews or thinner with more milk.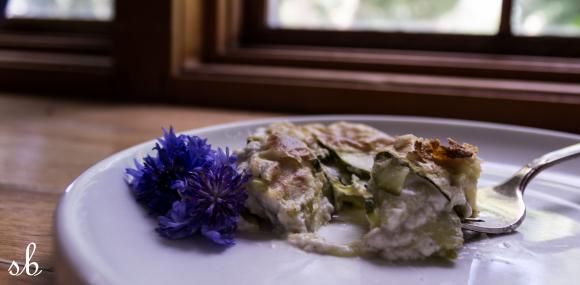 Pair with a delicate side salad and you have the perfect lunch!
The lighting was a little -eh- that day so my photos aren't the greatest but I didn't want to wait and posted them anyway.
Renee
Related articles across the web
0