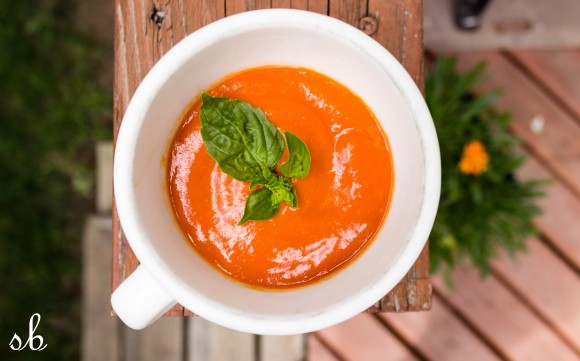 I wish I could take soul credit for this brilliant soup but the credit goes to  Deborah Madison, chef and author of Vegetarian Cooking for Everyone.   This is one of those recipes that is ridiculously easy to throw together while still having a wonderfully acidic, yet balanced, flavor.  
I used some gorgeous heirloom tomatoes that came from a local co-op (I cleaned them out), but any juice, ripe, and fragrant tomatoes will work.  I don't suggest roma or plum tomatoes, ironically, because they are a bit too "dry." Prep time is a breeze; just be sure to chop everything to a similar size.  It all gets pureed in the end so who cares what it looks like at first.
The resulting silky soup is so creamy, it's hard to believe that it is technically vegan! Cooking down the tomatoes not only develops killer flavor, it also makes the phyto-nutrients more available for our bodies to digest.  Most notably, the carotenoid pigment lycopene and vitamin C.  I'll spare you the nitty gritty about all the benefits of tomatoes.  Just trust me on this one.
Late Summer Tomato Soup
3 Tablespoons olive oil
 1 cup shallots, cubed (3 large or 8-12 tiny)
5 pounds red, juicy tomatoes, rinsed and in chunks (de-seed if you like)
Himalayan salt and fresh pepper
Yield:  about 4-5
Heat olive oil over low heat in a medium sized soup pot. Add shallots and prep tomatoes as they cook.
Add tomato chunks to shallots with 1 teaspoon Himalayan salt and 1/3 to 1/2 cup water. Over medium to low heat, cover and let cook 4 hours.  Don't rush it!  Stir every now and then.
After 4 hours, remove from heat and carefully blend the soup in two batches in a blender.  Make it creamy. Season with pepper and more salt if necessary.
That's it!  Top with ribbons of basil and a drizzle of olive oil. Or serve with a dollop of plain yogurt and avocado.

The key to this recipe is finding good tomatoes.  If you grow your own, great!  Finding juicy, ripe tomatoes at the supermarket can be a challenge but this time of year, your local farmer's market or co-op should have some beauties. They should be a little soft, fragrant, and feel like they have a thin skin.
I hope you like it as much as I did!
Renee
Related articles across the web
0