Spring and picnics belong together. Fragrant flowers blooming, blue skies and lush green grass. Walking outside and feeling the warmth of the sun on your bare skin. I love this time of year. Here in Korea, yesterday was one of those beautiful days. To enjoy our "Sunday Funday," we decided to have a picnic at one of the local parks. We were in the mood for something brunchy so after scavenging the fridge, I decided to whip up a savory spring quiche.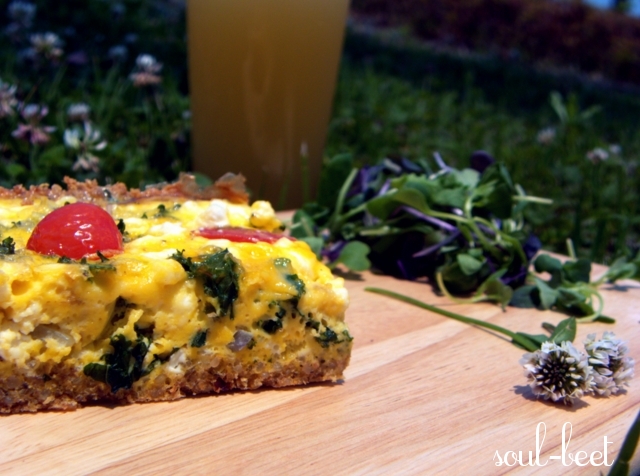 Instead of the rich, buttery crust traditional quiche has, I experimented with a bit of quinoa and ground flax to create a nutrient packed, delicious and sturdy crust. It worked.
If you haven't heard of quinoa, well, you are missing out. This hearty little grain is the only plant source that is a complete protein, making it ideal for vegetarians. This Peruvian staple is loaded with magnesium, phosphorus, iron, calcium, B vitamins and folate. While it has a relatively low fat and calorie content, the amount of fiber in quinoa makes it super filling. Naturally gluten free, combining the ground flaxseeds with cooked quinoa makes this crust recipe a fantastic alternative for those with sensitivities.
You can add any veggies you like to this quiche. Cheeses and organic meats could be great additions as well. Because I have a lot of it, I loaded my pie with kale, yet another superfood. In addition to several vitamins and minerals, kale is a potent source of the carotenoids lutein and zeaxanthin. These two carotenoids are important for eye health and can help prevent cataracts. Kale is in the brassica family, along with broccoli and collard greens. A characteristic of this family is that most of the vegetables contain the chemical indole-3-carbinol, which encourages the repair of DNA in our cells and can ultimately help prevent cancer.
Now, to the recipe. All measurements are approximate so feel free to add a little more or a little less of anything.
Spring Quiche with a Quinoa Crust
6 organic eggs
1/4 cup plain, unsweetened almond milk (or cream)
1/4 red onion, thinly sliced
about 5 cherry tomatoes, halved
goat cheese, cheddar or any cheese you like. I used feta.
1 minced garlic clove
3 stalks of kale, stems removed, leaves sliced into ribbons
3 heaping Tablespoons ground flaxseed
2 Tablespoons ghee (clarified butter) or coconut oil
1/2 cup dry quinoa
1 teaspoon Italian seasoning
salt and pepper, to taste
Pre-heat oven to 350 F or 175 C. Lightly grease a pie plate (I used an 8×8 Pyrex dish but a pie plate or tart pan would be ideal.) Cook the quinoa in water, according to the package instructions. My favorite way is to simply cook quinoa in my rice cooker. One part quinoa to two parts water/ vegetable broth.
While the quinoa is cooking, combine ground flaxseeds, ghee, Italian seasoning, and a hefty pinch each of salt and pepper in a medium bowl. Stir in the cooked quinoa.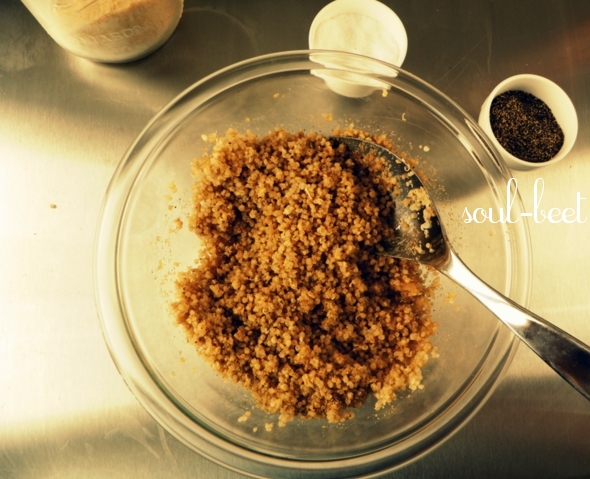 Once combined, press into greased pie plate and bake for 25 minutes.
Meanwhile, lightly whisk the eggs with the almond milk. Add onions, garlic, kale, tomatoes, a bit of cheese, salt and pepper.
When the pre-baked crust is done, pour the egg mixture into the crust, top with a little more cheese and a light drizzle of olive oil. Bake 35 minutes or until the center no longer jiggles. Let cool about 15 minutes before cutting.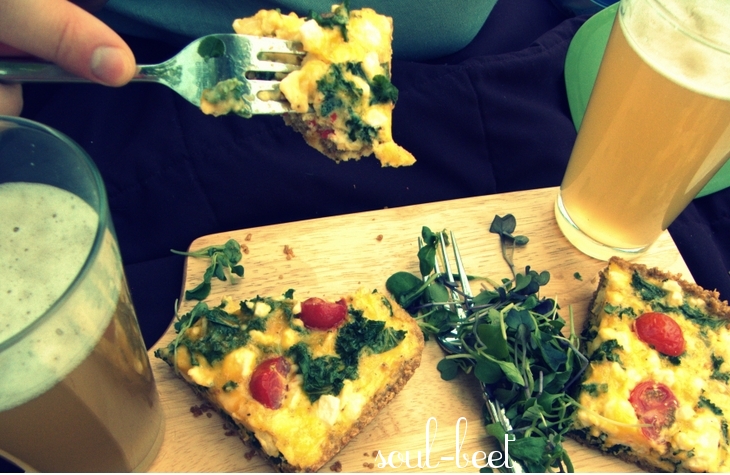 With a little micro green salad and cantaloupe for dessert, this made for the perfect, portable brunch. Oh and did I mention, this pairs wonderfully with a crisp, citrus-y, unfiltered white ale. Just saying.
Related articles across the web
0