Fun-guy, fungi…
See what I did there?
Another week, another Monday. Unlike last week's post, this one requires a little heat.  If you are lucky enough to own an outdoor grill, you could totally use it.  Me? I used a stainless steel skillet and my broiler.  So, it's a pan pizza (NOT Chicago-style pan pizza, because let's be honest, that's a casserole). 
This recipe is inspired by the mushroom pizza my husband and I recently demolished at Vin 909 in Annapolis.  If you live in the area or are visiting, you MUST pay a visit to this dining establishment.  Opens at 5:30PM and doesn't take reservations, but it's worth it. 
The chef-version from Vin 909 was quite indulgent, featuring 3 (or more, I can't remember) types of cheeses but I lightened it up a bit with my homemade version. Two words.  Goat. Cheese.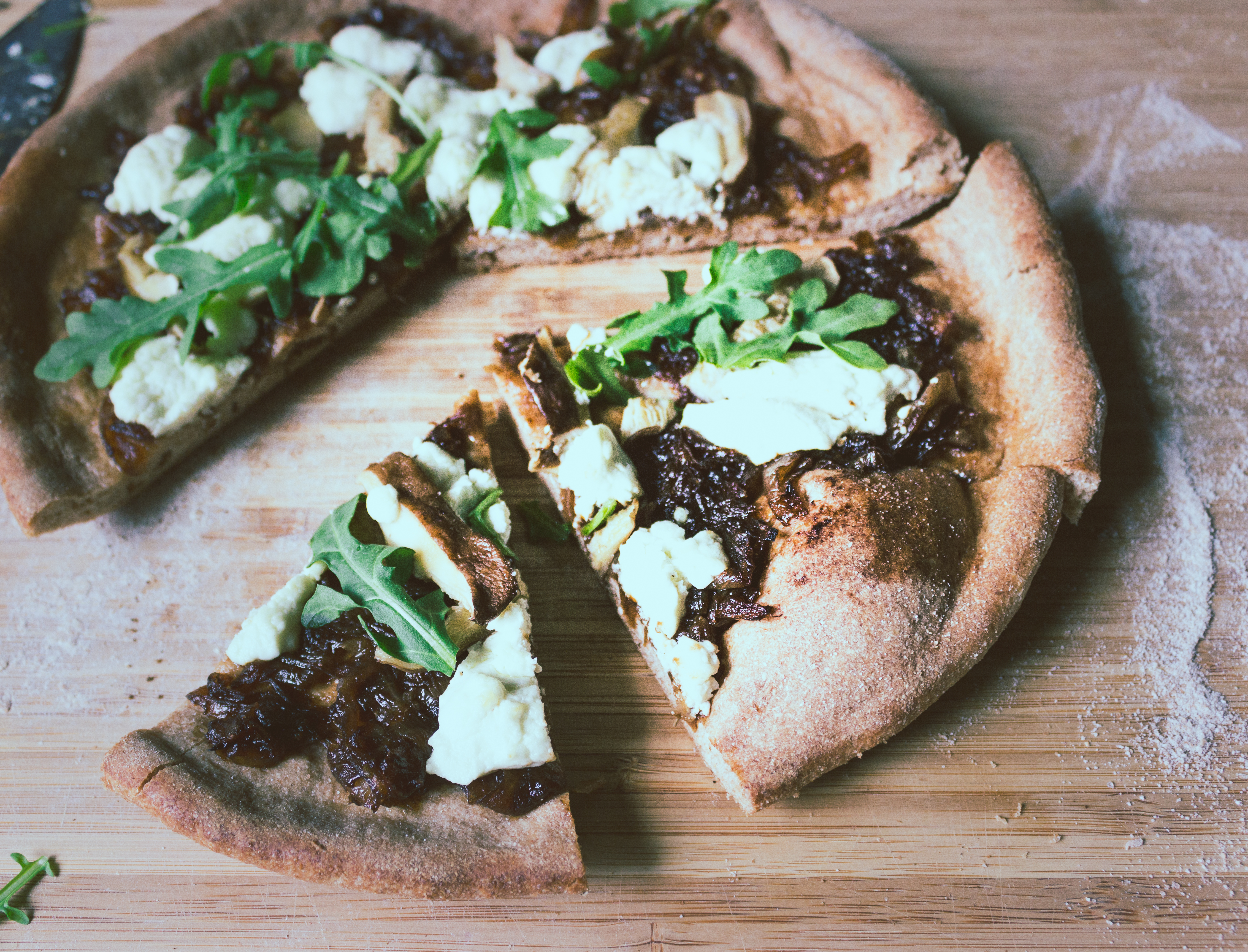 If you can get your mitts on them, wild mushrooms make this pizza phenomenal.  I did my mushroom hunting at my local, er, grocery store but was able to find shiitake and oyster mushrooms.  You could use sliced portobello, button or cremini, or whatever other fungi you fancy. 
Finally, in place of any type of sauce, I used gooey homemade caramelized onions. While you can use any onion, if you have a choice, go for yellow onions.  They are sweeter and caramelize faster.  Instead of walking you through the process (which is super simple), I am going to direct you to the step-by-step guide over at TheKitchn.  You can do this while your pizza dough proofs. 
This pizza starts out on the stove top and is finished off under the broiler.  Do NOT use a nonstick pan as the coating will break down under the broiler and basically kill you.  Not really but it's not something you want leeching into your food. Cast iron or stainless steel are perfect.  Also, make sure the handle of the pan is oven safe (no plastic!).

Meatless Monday: Fun-Guy Pizza
Serves: 2 servings per pizza, makes 3-4 pizzas
Ingredients
Whole Wheat Pizza Dough
1 teaspoon honey
1½ cups warm water
1 Tablespoon active dry yeast (1 packet)
1 Tablespoon olive oil
1 teaspoon salt
3½ cups whole wheat flour

Toppings
1-2 cups wild mushrooms (shiitake, oyster, cremini, portobello) (per pizza)
goat cheese
¾ to 1 cup caramelized onions (per pizza)
Salt
Olive oil
Instructions
Pizza Dough
In a large bowl, dissolve honey in warm water. Sprinkle yeast over top and allow to sit about 10 minutes, until foamy.
Add olive oil and salt and stir until somewhat combined. Add flour slowly. Stir until combined and begins to form a ball.
Dump dough onto a floured surface and kneed for 5 minutes or so; until it starts to smooth out and you can form a nice ball.
Place dough ball into a slightly oiled large bowl and cover with a tea cloth. Set aside in a warm area and allow to rise for 1 hour, or until about double in size.

Preheat broiler.

While dough is rising, prepare the caramelized onions. I cooked mine for about 30 minutes which made them uber gooey and sweet.
Clean mushrooms (do NOT wash with water!) by dusting off any dirt or debris.

Once dough has doubled in size, punch it to remove some of the air. Divide into 3-4 balls.
Heat an oiled skillet over medium-high heat.
On a floured surface, roll out the dough into rounds that will fit into your skillet.
Drape dough into pan (it's ok if it creeps up the edges). You may want to reduce your heat to medium so it doesn't burn.
After 3 minutes or so, you should notice some bubbles. Puncture big ones.
Add onions in an even layer, then add dollops of goat cheese and mushrooms. Drizzle with olive oil.
Place under broiler for a few minutes, until bubbly and the crust begins to brown.
Carefully remove from oven and season with a light dusting of salt.
Repeat with other two dough balls or wrap dough in plastic wrap and refrigerate for later use.
Notes
Optional: serve topped with arugula and another drizzle of olive oil
It's not gluten-free, obviously.  If this is something that concerns you, check out my
cauliflower pizza crust
. Instead of using the stove, just pre-bake in the oven, add toppings, and return to oven to finish. 
Have a fantastic week!
Renee
2