Curried Zucchini Soup 
You've just come home from  a long day at work/school/hustling and really don't want to spend time in the kitchen. You've got some Game of Thrones to catch up on and pizza or Chinese take out are calling your name… but wait!  What if there was something that took little to no time to make and used ingredients you already have lying around but don't know what to do with?  This green, dreamy soup is for you.
I actually made this for lunch yesterday- if you follow me on Instagram, you may have seen my obligatory "look at the stuff I ate today" post.  That's what IG is for, right?  I quickly whipped this up, half expecting it to taste bland so I had some hot sauce on stand by.  It actually turned out brilliantly; smooth, flavorful, with a bit of kick from the curry I tossed in on a whim.  Finally, a use for the excess zucchini I had sitting on my counter, admittedly collecting dust. If you have more tomatoes than you know what to do with, check out my Late Summer Tomato Soup post.
Sometimes zucchini can have a bitter after taste so here's a tip- while salting and peeling may reduce this somewhat (to be honest, I didn't peel my zukes. I like the green color and the skin has lots of nutrients. Actually, I simply hate peeling vegetables), there is a another funny little trick that I think originated in the households in India.
Lop off the stem ends of the squash, then press the little nub back on to the zucchini and press down while making circular motions. This looks….suggestive, and it only gets better because a white gooey substance will start to foam up around the edges. This same method works with cucumbers. Here's a video.  Keep going until you either get tired or the zucchini is "dry," as Dr. Steve Brule says.  If you don't know who he is, well, YouTube it and please don't judge me.   The theory behind this method is that the white, milky stuff contains cucurbitacins which are the naturally occurring chemicals thought to be responsible for that bitter taste.  Simply wipe it off and you're good to go…
Now that I've got you in the mood, let's move on to the recipe itself.

Creamy Curried Zucchini Soup
Prep time:
Cook time:
Total time: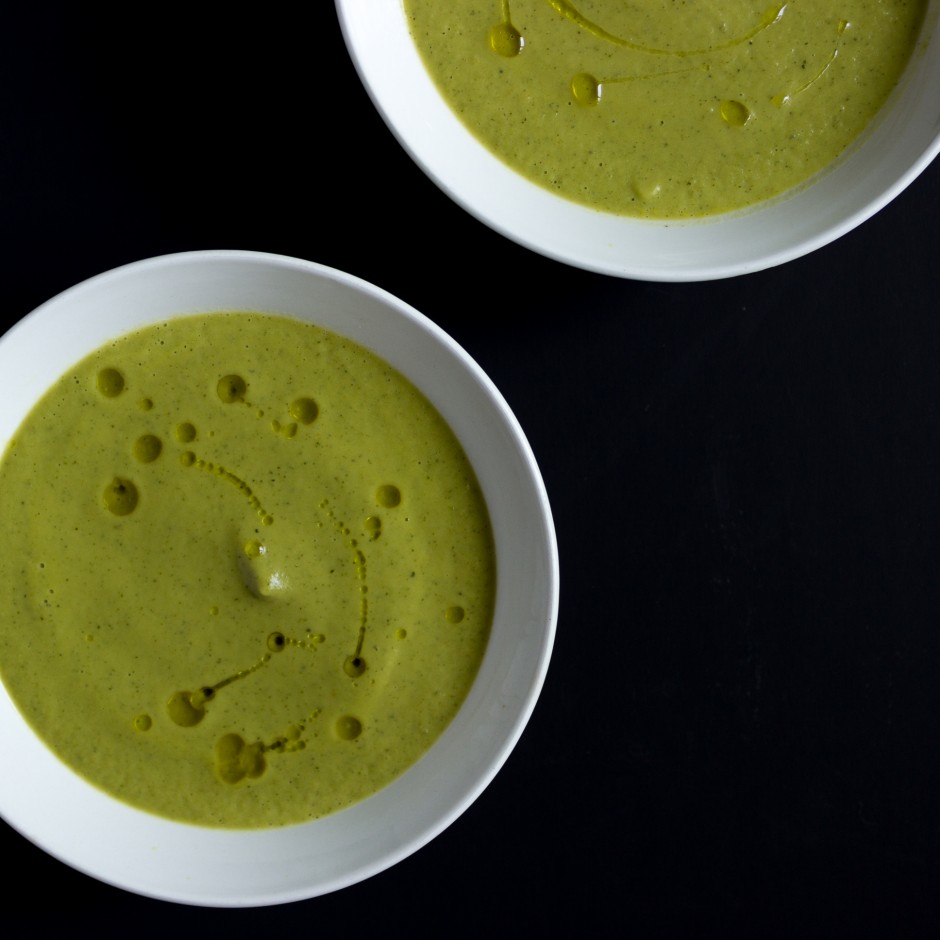 Ingredients
2 large zucchini ( peeled and "milked" if you are so inclined)
1 medium onion, sliced
3-4 cloves of garlic, smashed
2-3 good glugs of avocado oil
½ teaspoon curry powder
½ teaspoon sea salt
1 cup low sodium vegetable stock
Your favorite finishing oil (optional)
Instructions
If using conventional zukes, go ahead and peel. If organic, feel free to live the skins on. Wash thoroughly and cut into one inch cubes.
Heat avocado oil over medium-high heat.
Add onion and garlic to heated oil and reduce heat to medium. Sprinkle with curry powder. Cook for 5-8 minutes until translucent and fragrant.
Add zucchini cubes, salt, and 1 cup of vegetable broth. This may seem like very little liquid but the zucchini has a lot of water which will leech out while cooking.
Bring to boil, then reduce to simmer. Partially cover and simmer for about 10 minutes.
Remove from heat and allow to cool slightly. Then blend either in a blender or in the pot itself with a stick blender. Take care as it is very hot.
Taste and re-season with salt if necessary.
Serve with a drizzle of high quality olive oil.
Try topping with some crusty croutons, extra sharp cheddar, or a dollop of Greek yogurt.
 See?  That wasn't so hard.  Pair with some left over quinoa or a cold bean salad for some protein. 
What are your favorite zucchini recipes?  I'd love to know!
Xo Renee
0