B-Groats Granola…
We all know by now that granola from the grocery story (even the health-food stores) is loaded with sugar and sometimes unhealthy fats. But it is sooooo goooooooood. There's no reason you can't make it at home, customizing it however you like. 
I've made this granola so many times but each time I always add something a little different. Instead of using the traditional oats, I actually use raw buckwheat groats that have been soaked for an hour or two or even over night. Soaking them up to 48 hours actually allows them to sprout (but I ain't got time for that). 
Because I'm using buckwheat groats as the base for this recipe, it is entirely gluten-free (just avoid cross-contamination if that is a concern for you). I'm fortunate in that I don't have a severe reaction to gluten but for those of you that do, you can still enjoy this delicious power brekkie.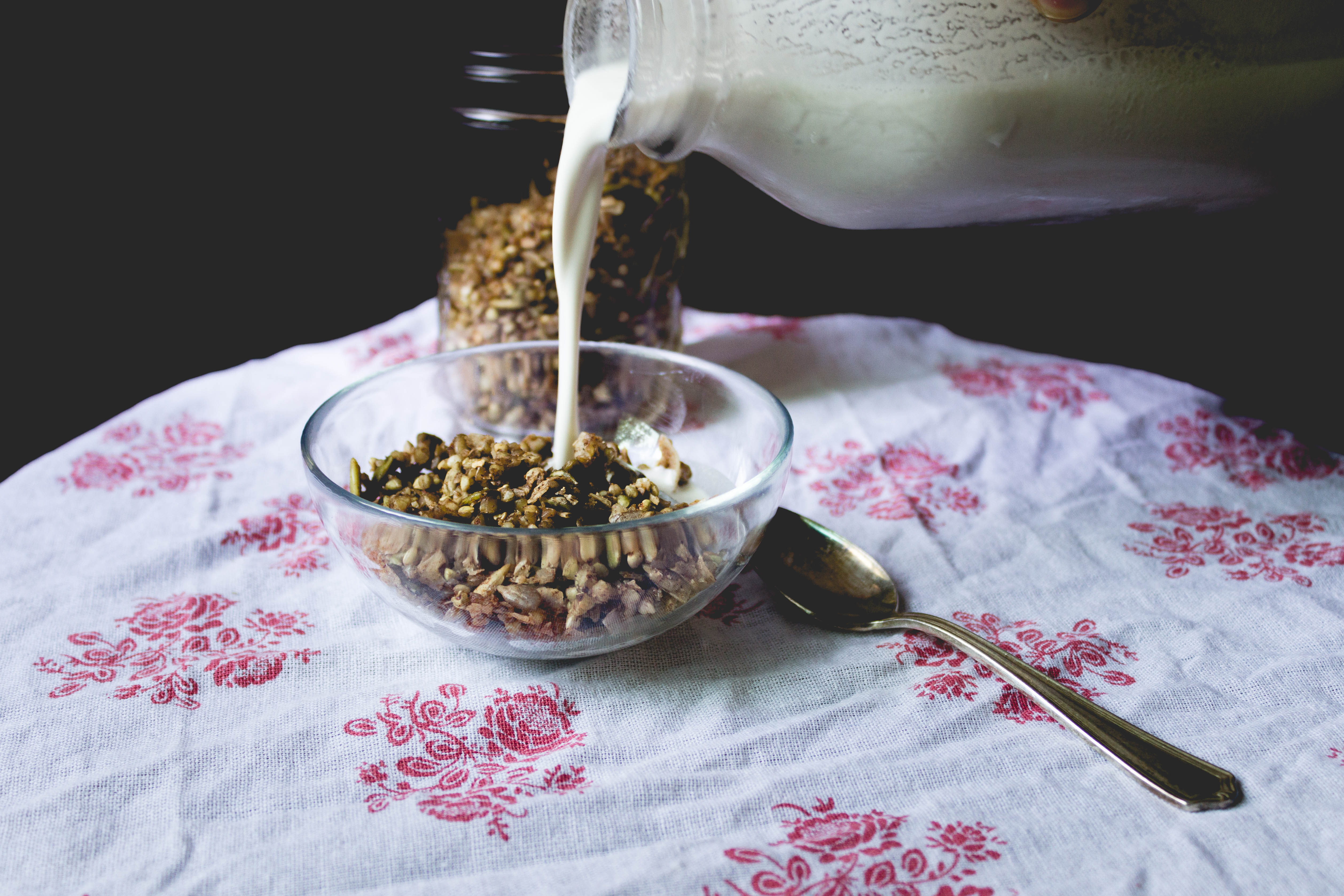 B-groats are a wicked source of manganese, copper, magnesium (which so many of us are deficient in), fiber, phosphorus, and lignans which help prevent heart disease. The benefit that makes this a brilliant breakfast option is that buckwheat groats have a remarkable ability to control blood sugar. You want to avoid blood sugar spikes throughout the day but especially in the morning. I pair this granola with a cup of chicory and dandelion 'coffee' in order to have sustained energy all day long (chicory also helps balance blood sugar). 
Other badass body-lovin' ingredients I used in this particular batch are cinnamon, unsweetened/unsulfured coconut flakes, raw pepitas, and a bit of coconut oil and raw local honey. It's great for summer because you can bake it at a super low temperature (250°F if you are impatient like me, even lower if you are ok with baking longer. A dehydrator would work perfectly) and not worry about heating up the entire house. Plus it only takes an hour so it can bake while you get on with your morning routine. 
Enjoy as a cereal with home-made plant milk (my fave is cashew milk), sprinkle over coconut yogurt or ice cream, or just nosh on it by the fistful handful. I have to restrain myself from eating the whole sheet pan when it comes out of the oven (while uber healthy- it isn't that low in calories so keep that in mind!). 

The Best Buckwheat Granola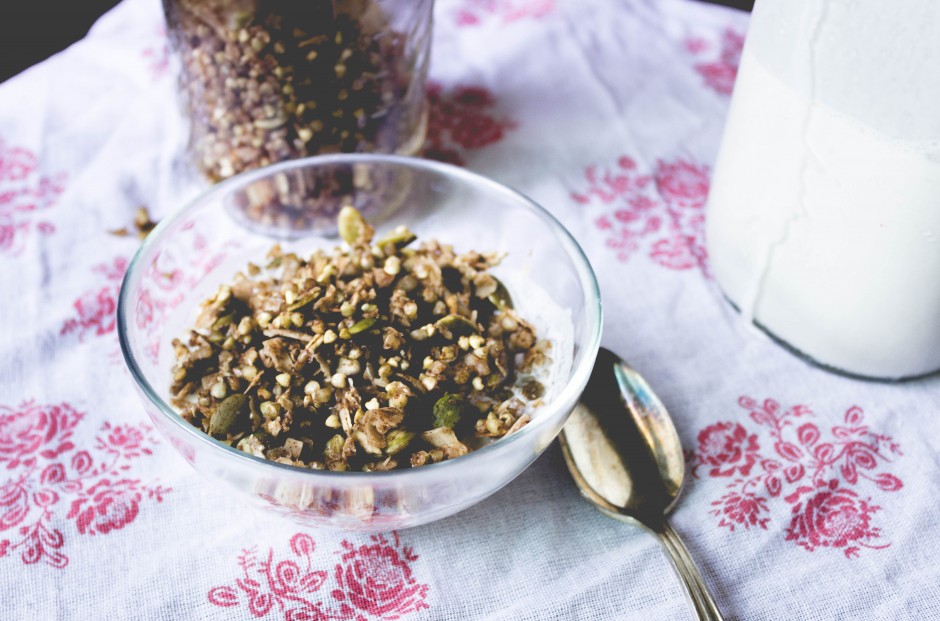 Ingredients
16 oz raw buckwheat groats (I love Bob's Red Mill brand), soaked 1 hr or overnight, rinsed well and drained
½ cup raw, unsweetened coconut flakes
½ cup raw pepitas (shelled pumpkin seeds)
pinch of sea salt
2-3 Tablespoons ground cinnamon (depending on taste)
1-2 Tablespoons melted coconut oil
¼ to ⅓ cup raw honey, maple syrup, or yacon syrup
Instructions
Preheat oven to 250°F
Drain and rinse soaked buckwheat groats
In a large bowl, mix all ingredients together until combined.
Line a sheet pan with parchment paper (line two sheet pans, if you have them or have room in your oven)
Split the granola between the two sheet pans and spread into a thin, even layer.
Pop in the oven for an hour or so, until crunchy.
Let cool, break up and store in glass airtight containers (it should last a week or so, but mine is always gone before then!)
Shooting photos with a kitten around is a challenge. Remy LeMew (named after Gambit, aka Remy Lebeau) wanted nothing more than to destroy my efforts. Jumping, grabbing, and pulling at my napkin beneath my creation. Had to include an action shot of his ornery self. Yes, even as kittens, cats are assholes.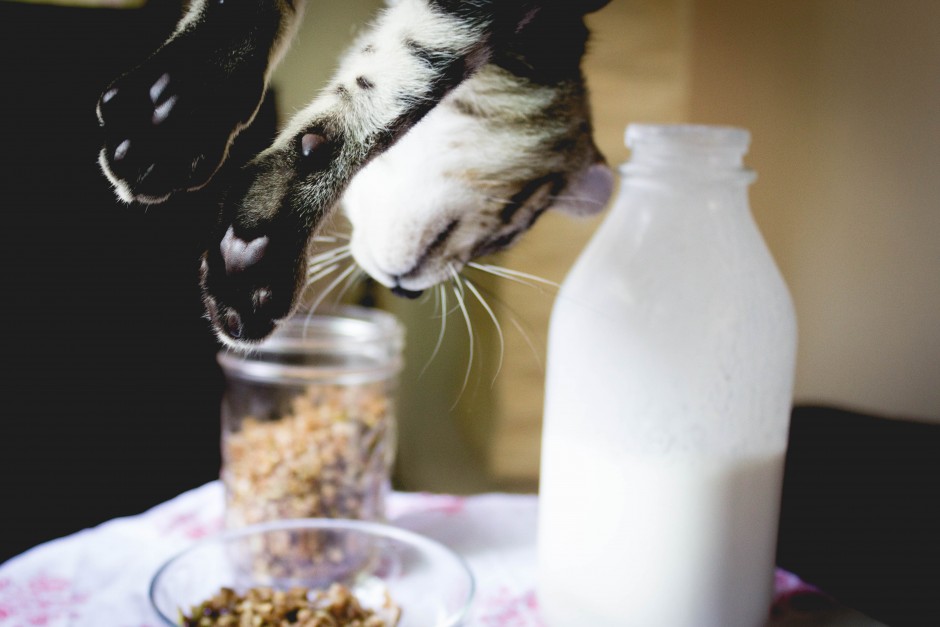 What's your favorite breakfast?
Do you make your own granola?
Is your cat a jerk too?
4