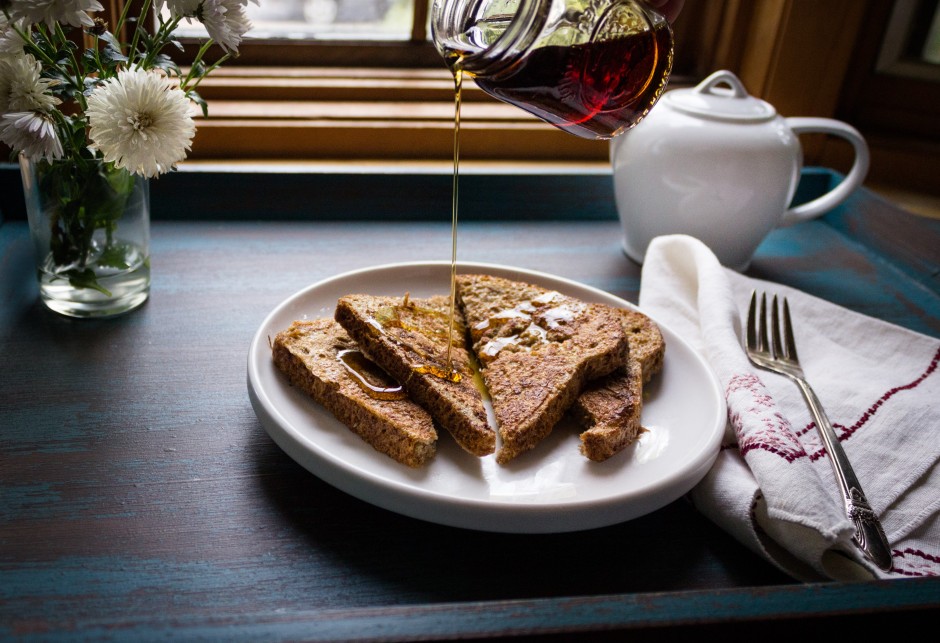 I think it's silly when bloggers apologize for being away and living their lives but here I am, feeling like I should say "sorry for being MIA last week.  I was doing XYZ.."  We apologize too much.
I was in Oregon visiting family and welcoming my husband back to America (he remained in Korea for a few months after I left).  We were lucky enough to spend time at the beach, in a house overlooking the bay.  No internet, no TV.  Just salty air, seagulls and burly fisherman.  We love Oregon and plan to move to Portland in the next couple years.
After a 1300 mile drive from coast to Colorado, we are now back with my folks for a bit before hitting the road again.  Our next adventure is taking us to the East coast, between Baltimore and DC.  
Also, I've been working on something pretty exciting that I can't wait to share with you all.  More on that later…
But you aren't here to read about my life, you're here for a bomb-diggity french toast recipe.  I made this simple, healthy brekkie on the fly yesterday and am now regretting I didn't make enough to have leftovers for today.  I must learn to anticipate my future laziness.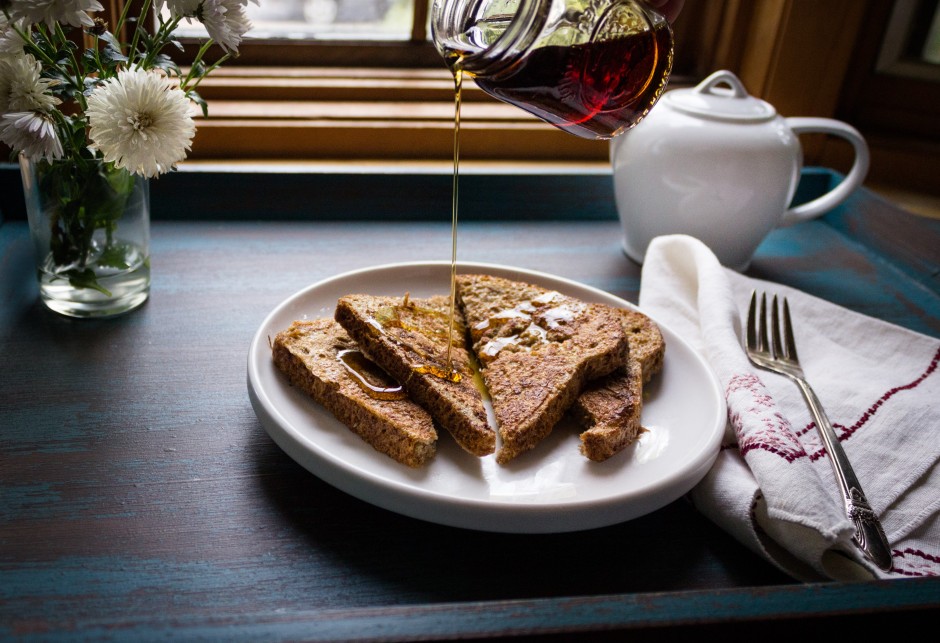 Ingredients
4 slices sprouted grain bread (I used Ezekiel)
2 whole, organic eggs
2 organic egg whites
1 heaping teaspoon pumpkin pie spice
1 teaspoon coconut palm sugar
pinch of salt
splash of milk (I used flax milk)
Organic maple syrup
1 Tablespoon coconut oil
Instructions
Whisk together all ingredients in a shallow dish, large enough to soak the bread in.
Add bread to custard mixture and allow to thoroughly soak. Be sure to flip after a minute or two.
Heat coconut oil in a skillet over medium heat.
Without overcrowding the pan, cook the custard-soaked bread for a few minutes on each side, until slightly brown on the outside but still moist on the inside.
Serve warm with real maple syrup, pepitas, walnuts, whipped coconut cream, pumpkin butter... anything you like!
Notes
I'm an advocate for using whole eggs but in this recipe, I ditch two yolks because it results in fluffier french toast and eliminates that "eggy" taste.
The sprouted grain bread pushes this recipe over the top when it comes to healthful goodness.  This french toast one of my favorite things to eat after a workout because it provides the perfect combination of protein and carbohydrates necessary for muscle recovery.  
Within the next week or two, I will be announcing the project I am pumped to be a part of.  Subscribe in the side bar or add me to your rss feed so you don't miss it!
0