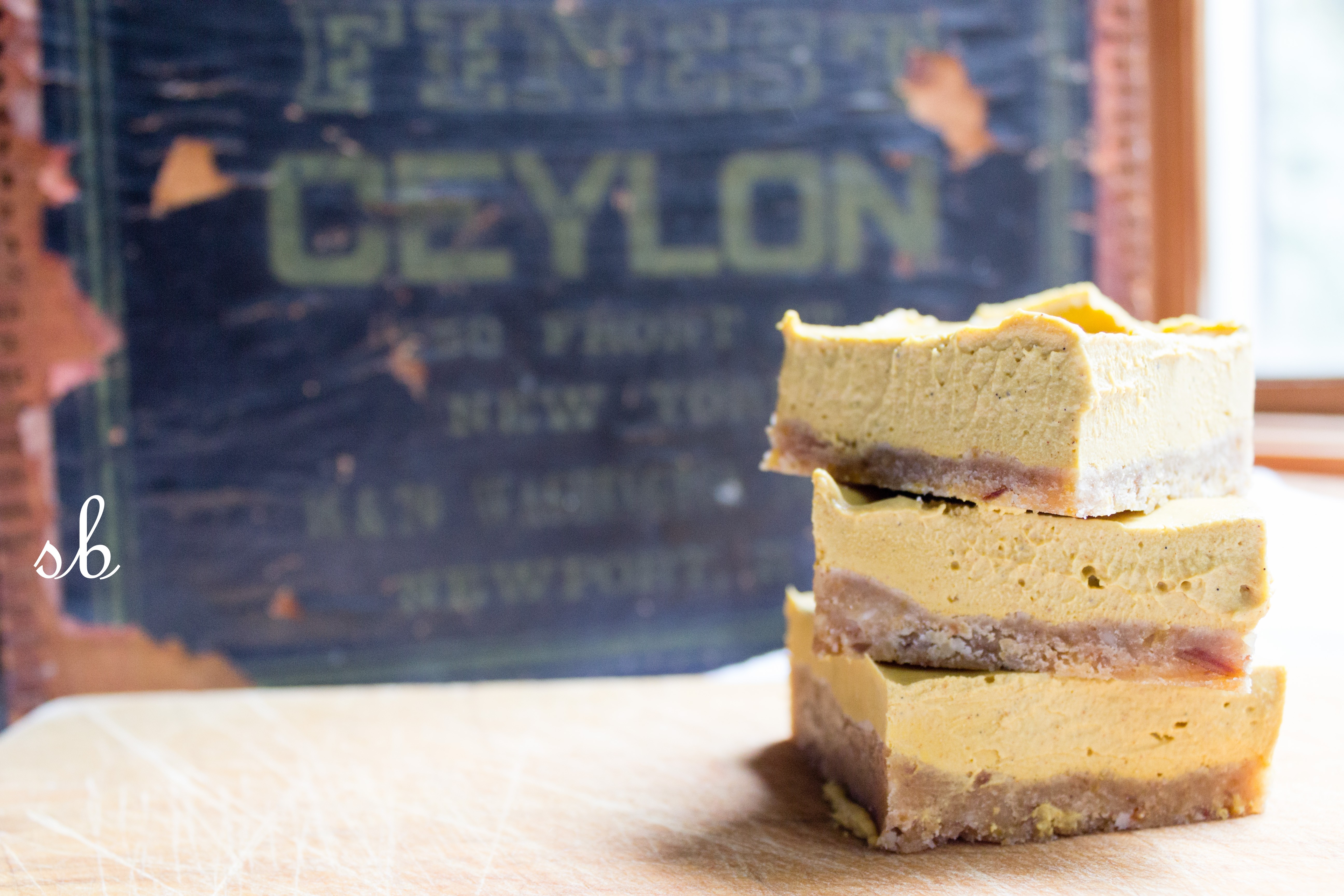 Happy autumn "equinox!" To get you inspired for the season ahead, I wanted to share something a little more lush and indulgent.
Vegan cheesecake? I know. For those of you who are new to the vegan scene, you may think this is far too incongruous to be true. You are right; there is no cheese what-so-ever in this epicurean wonder. There are, however, some crafty ingredients which create the luscious, rich, bite we are accustomed to.
I have nothing against regular cheesecake, as long as it is enjoyed in moderation (though I think everyone should make a conscious effort to reduce their white sugar consumption). Personally, I actually like the taste of the vegan version better. Those of you who are familiar with vegan cheesecake, you know what I'm talking about. I do want to put a note in here- just because something is vegan or gluten-free does NOT mean it is always healthier, righteous, and magical. Don't worry though, this recipe is quite nourishing.
While this pumpkin cheesecake is lighter than the original, it should still be enjoyed sensibly. Don't eat the whole thing, I'm warning you! Lots of healthy fats and other goodies but too much of a good thing….. yada yada. The creamy base consists of soaked, blended cashews, and the crust includes walnuts and macadamia nuts. I chose deez nuts for a variety of reasons. I have to be careful with nuts (you don't say?). My body doesn't tolerate them very well, especially almonds for some reason. Even if I soak my nuts (heh), I still feel ill. That doesn't mean you can't experiment with almonds, pecans, pistachios etc. Just make sure you get them raw and unsalted

I also wanted to keep the glycemic index (GI) impact fairly low so I used more dried apricots than dates in the crust (dried apricots have a lower GI). I won't go into much detail now but foods that are high on the GI will cause your blood sugar to spike, and then crash, thus making you feel like crap. Fruits and vegetables that score higher on the GI are actually still great because the fiber content essentially slows the release of sugar into your blood. Really, it's the white bread, white rice, and other processed foods we need to watch out for. I will be dedicating a whole nutritional post about the glycemic index in the future.
This recipe is dairy-free, vegan, and free of refined sugar and flour. To make it soy free, just omit the lecithin (it's there mainly for texture). Oh, and it's gluten free!
Vegan Pumpkin Cheesecake Squares
Ingredients
Crust:
1/4 cup coconut flour or almond meal
1/4 cup oat flour (grind oats in blender)
1 cup raw walnuts
1/2 cup raw macadamia nuts
2 Tablespoons organic coconut palm sugar
3 Tablespoons coconut oil
1 teaspoon coconut manna (coconut butter)
7-10 dried apricots
7-10 dried dates
squeeze of lemon juice
Filling:
1 3/4 cups raw cashews, soaked overnight
1 cup organic boxed pumpkin
1 cup carrot juice
1/4-1/3 cup coconut palm sugar
juice of 1 lemon
1 teaspoons lecithin
pinch of salt
Scrapings of one vanilla bean or 1/2 teaspoon vanilla extract
1/2 cup soft coconut manna (coconut butter)
2 teaspoons pumpkin pie spice (cinnamon, cardamon, ginger, nutmeg, cloves)
Instructions
Place all of the crust ingredients into a food processor or blender and pulse until incorporated and crumbly.
In an 8x8 round or square springform pan, press the crust ingredients into an even layer on the bottom.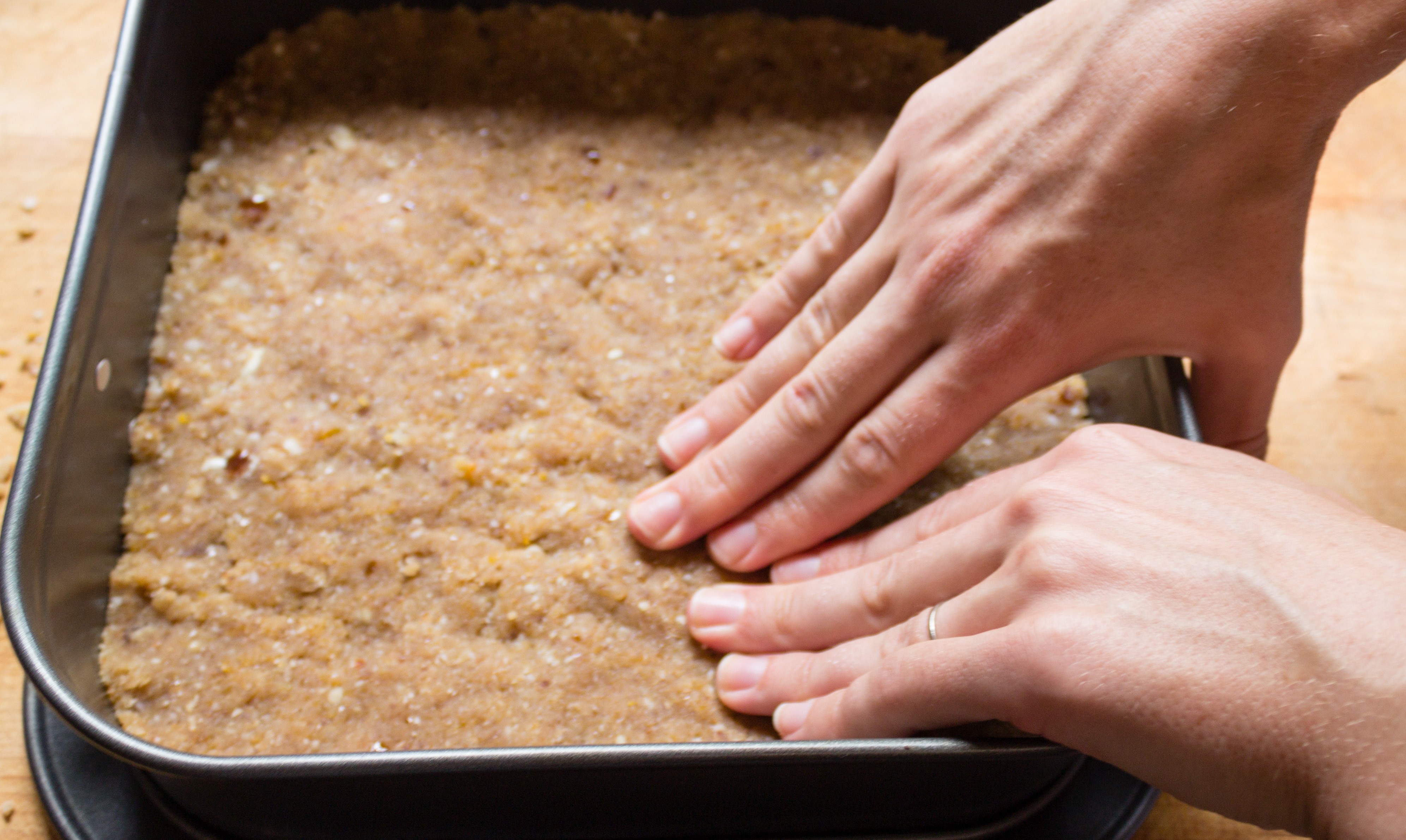 Place all of the filling ingredients in a blender and blend until completely smooth. Pour into springform pan and shake to remove any air bubbles.
If you are inpatient, like me, you can place this in the freezer for 1-2 hours to allow it to firm up enough to slice. Then transfer to the fridge. Otherwise, place in the fridge overnight. You can freeze the left overs and simply thaw them in the fridge before eating!
Notes
//You could make this entirely raw by using raw pumpkin, kabocha squash, or sweet potato. The pumpkin I used was pre-cooked.
//Always taste the filling before letting it set; adjust the seasonings and add more sweeter if needed.
//Omit lecithin if avoiding soy. You could try sunflower lecithin, though I have never tried it.
http://soul-beet.com/vegan-pumpkin-cheesecake-squares/
SOUL BEET © 2014. ALL RIGHTS RESERVED
(I'm not sure why my recipe and instructions are centered but I am trying to fix it!)
I wish you a healthy and joyous autumn season! Full of sugar and spice and all things nice….
Renee
Related articles across the web