Pumpkin. Spice. Truffles.
Three of my favorite words. Truth be told, I used to despise pumpkin but then I came to my senses. 
I came up with these as a little Halloween treat but they are delightful any season (though they really shine in the crisp autumn months).  These heavenly truffles are indulgent AND good for you! Raw cacao, pumpkin, coconut oil…mmhmm. They're also vegan, paleo-friendly, and gluten-free (but man, I hate using those words to describe anything. They sound so un-fun.)  Note- this doesn't mean they are low-calorie (hello coconut oil) but remember, nutrients matter more than calories.
Anyway, I'll keep this intro short because who really reads it anyway? You're here for the recipe! So here goes… (it gets messy, you'll be covered in chocolate, so will your fridge, the window sill, your cat…).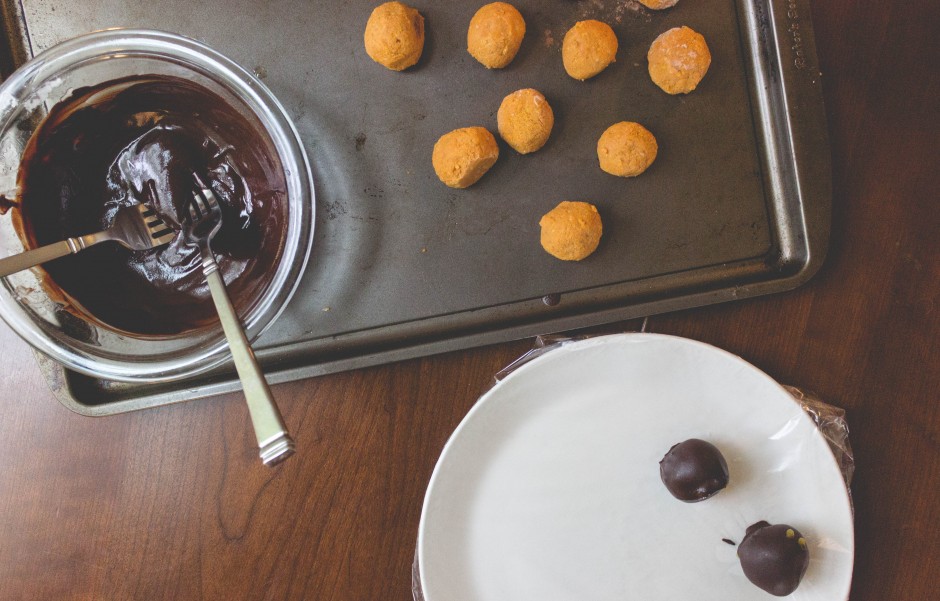 Ingredients
½ cup coconut butter (sometimes called coconut manna)
½ cup cooked pumpkin puree (BPA free canned is fine. Ooo I bet these would be awesome with kabocha!)
1 teaspoon pumpkin pie spice
¼ cup coconut oil
½ cup maple syrup- divided into two
½ cup raw, unsweetened cacao powder (add more to make a thicker chocolate for a thicker shell)
pinch of sea salt
Instructions
Blend the coconut butter, pumpkin puree, pumpkin pie spice, and ¼ cup maple syrup until smooth. Taste for sweetness.
Roll into 1 inch balls (you may want to refrigerate it first so it firms up).
Freeze your balls (heh) for 1 hour.
Melt the coconut oil in a microwave safe bowl (or in a pan on low heat), stir in remaining ¼ cup maple syrup, cacao, and a pinch of sea salt. Melt and stir until silky smooth (taste for cacao and sweetness, adjust as necessary).
Coat your pumpkin balls in the chocolate mixture and freeze again (for an hour or so).
Allow to thaw slightly before eating.
Notes
I keep mine in the freezer and pull them out (and put them in the fridge) for an hour and a half before I want to eat them. This lets them soften a bit, otherwise they are rock hard!
You could also just keep them in the fridge; they get nice and soft on the inside but the shell stays hard.
---
I also made some healthy twix- and snickers-inspired treats but they taste better than they look. Actually, they taste freakin' amazing so I think I will have to get those posted as well. It would be selfish not to. 
Happy Halloween everyone!
What are you dressing up as?
What's your favorite "healthy" Halloween treat?
Are you following me on Instagram?! 
Love and light,
Renee
2