Asparagus for Meatless Monday…
I'm back! It's been a bit since my last post because, well, life. I started a new job which I love and I'm gearing up for grad school finals while trying to finish an internship sooo..what can I say? I been bizzy. 
I randomly bought a bunch of skinny asparagus (always go for the skinny stalks, the thick ones can be woody and bleh) before I had the realization that I don't know if I even like asparagus. What was I thinking? Who knows but it looked nice, fresh, and it was on sale so…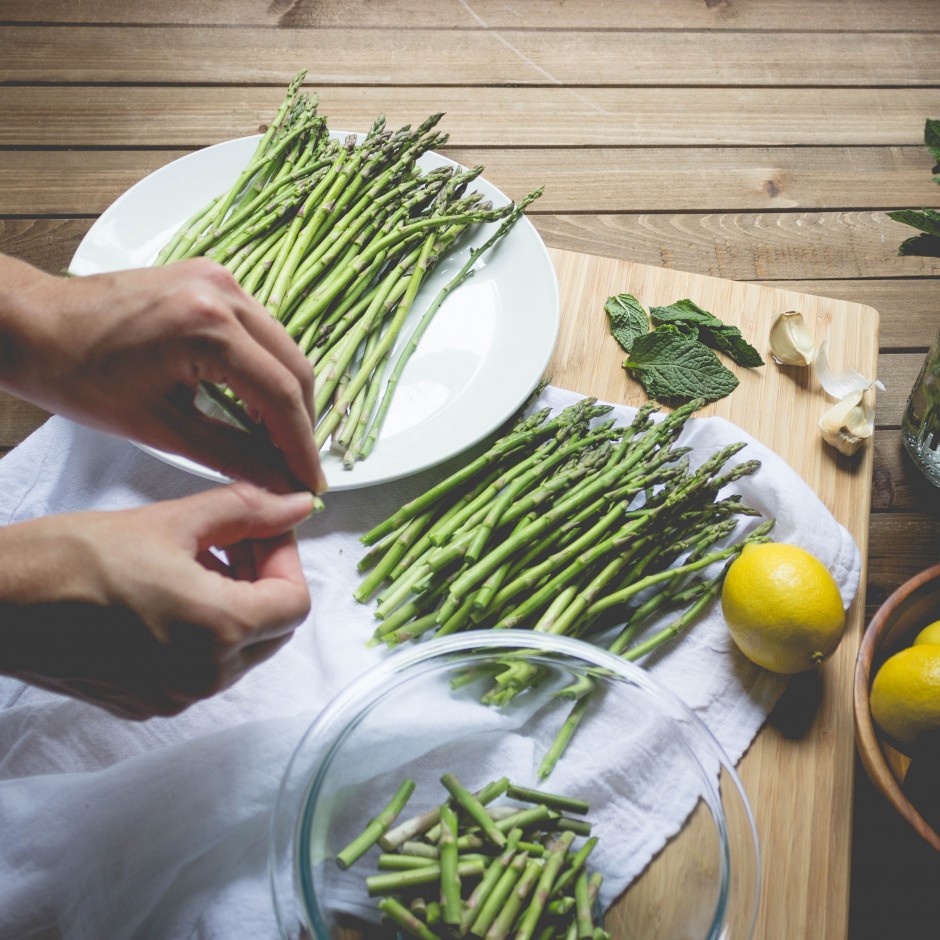 I think the reason I wasn't so sure about asparagus is because as a kid the only kind I had was cooked to rubbery death. Seriously grey, limp, mushy, wobbly sticks. I hate overcooked veggies. 
Looking around my kitchen, I decided I had way too many lemons, walnuts, and mint (which was getting a little wilted…) and thought, hey, I bet these would make asparagus taste bomb-diggity. I proceeded to make a mess in my kitchen, but still managed to get a few snaps of my sloppy sauté.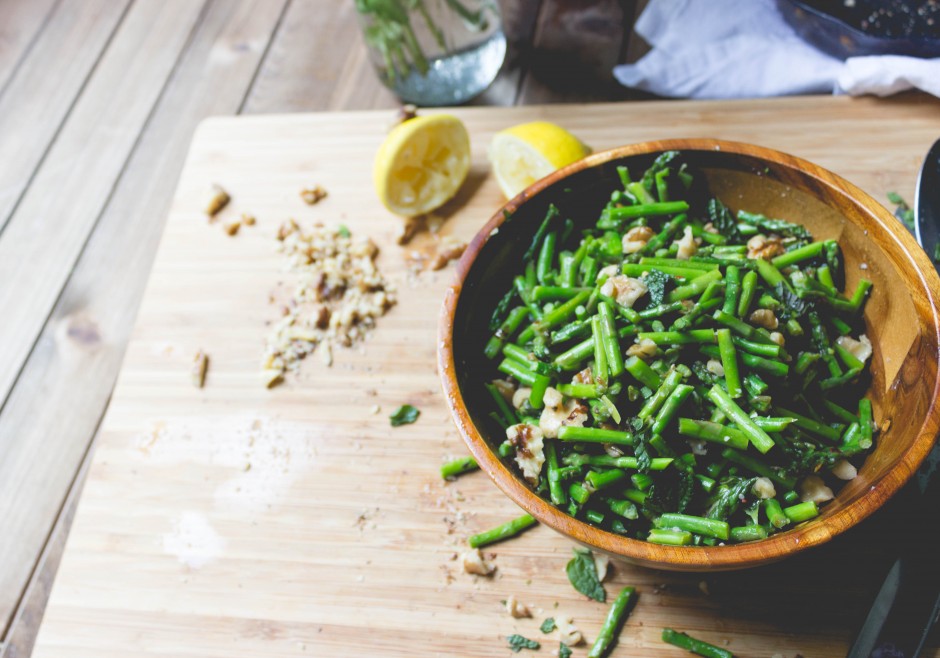 And I'll be damned, it came out gooooooooood.

Meatless Monday: Sautéed Asparagus with Mint and Lemon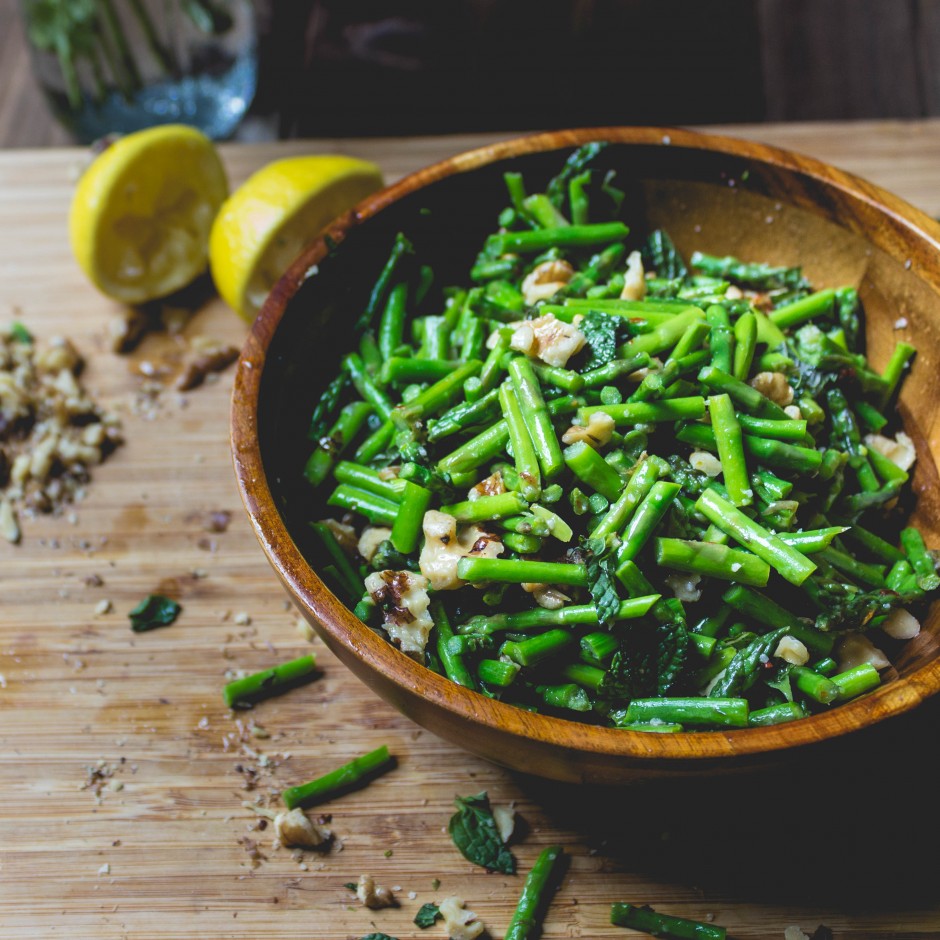 Ingredients
1 bunch of skinny asparagus, woody ends snapped off, cut into 1 to 1½ inch pieces
1 Tablespoon avocado oil
2 garlic cloves, minced
⅓ cup walnuts, lightly toasted
juice of one lemon
crushed red pepper flakes, to taste
salt, to taste
2 Tablespoons fresh mint, chopped
Instructions
Heat a dry cast iron skillet over medium-high heat and add walnuts. Jostle the pan around so they don't burn. Toast for a few minutes.
Heat oil over medium heat in another skillet and add red pepper flakes. After a minute or two, add minced garlic and cook until fragrant (a minute or two).
Turn up the heat and add asparagus pieces and salt. Saute for about 3 minutes (don't overcook it!)
Remove from heat, add toasted walnuts.
Serve with fresh mint and a drizzle of lemon juice.
This was the perfect lunch and made a great addition to one of my kitchen-sink power buddha bowls (aka the healthiest fast-food-that's-not-fast-food…..). 
If you give this a try, let me know! Be that person and take a pic for Instagram (follow me at soul_beet) and use #soulbeet so I can see what ya did!. 
Speaking of social media, come find me on Twitter and Facebook! Let's connect! I'm on Periscope as well so keep an eye out for my first #dopescope. I'm seriously starting to dig this Periscope thang and am all giddy about broadcasting myself. If you are on Periscope, let me know in the comments! I'd love to find more people to follow 😉 
2